A new Richmond River Coastal Management Program is underway
November 2022
To address the impacts of human land uses and activities on the Richmond River estuary a 10-year Coastal Zone Management Plan for the Richmond River Estuary (CZMP) was developed in 2012 by Ballina Shire, Lismore City, Richmond Valley and Rous County councils.

Through 12 strategies the goal of the CZMP was to restore and maintain the ecological sustainability of the Richmond River estuary as well as the associated recreational and commercial activities.

In early 2021 a new whole-of-catchment Richmond River Coastal Management Program (CMP) commenced. The aim of this program is to update the CZMP for the Richmond River Estuary in line with new legislation and to establish a whole-of-catchment management approach that will capture all issues and activities in the entire Richmond River catchment. Rous County Council, Ballina Shire Council, Lismore City Council and Richmond Valley Council are partnering with the NSW Government to deliver the CMP. The whole-of-catchment approach means this CMP will also include the participation of Kyogle Council, Byron Shire Council and Clarence Valley Council. The CMP will provide long-term strategy and management actions for the Richmond River.

The Stage 1 Scoping Study (the first of the five-stage approach) is underway and community input is a critical part of this stage.
The Richmond River estuary and catchment is important to many people for many different reasons. The area is also culturally significant as it is the traditional home of the Bundjalung Nation.
Community Feedback
Hydrosphere Consulting has now prepared a draft Stage 1 Scoping Study and are asking the community for their feedback. The Study identifies knowledge gaps and outlines how the new CMP will be developed and the community engagement process. Feedback can be provided up until Friday, 16 December at: hydrosphere.com.au/richmondrivercmp.

The Richmond River estuary and catchment is highly valued by the community and previously supported a productive network of natural ecosystems, rich biodiversity, and a range of human land uses and activities. Over time these interactions have had a negative impact on the health of our creeks, our rivers, and the estuary.

















Improving the health and water quality of our waterways
December 2013
We are committing to improving the water quality of local creeks and our stormwater to protect the health of the Wilsons and Richmond Rivers.
The Stormwater Management Services (SMS) charge helps pay for a range of measures from litter traps in the CBD to constructed wetlands that emulate the natural environment to filter nutrients from stormwater run-off.
We also try to educate the community about keeping stormwater free of rubbish and cigarette butts. At Kadina Park we have constructed the Healthy Creeks Path, a colourful mural for children about the wildlife of nearby Tucki Tucki Creek, which is a rare urban haven for platypuses and other animals.
In partnership with Rous Water and other regional councils, we also provide community and school education using the Richmond Brunswick Catchment Activity Model trailer. This is a 3D replica of a river catchment with a flowing river.
We also provide free personal ashtrays to residents to reduce cigarette butts flowing into our waterways.
Below is a snapshot of recent works to improve water quality.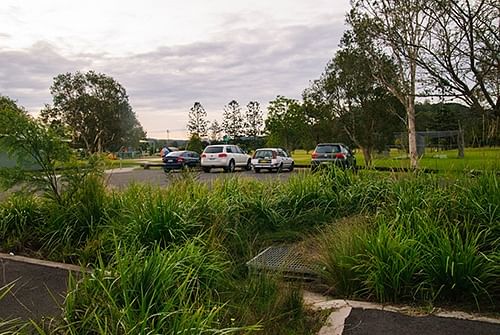 July 2011: Bio-retention system at Nesbitt Park carpark, South Lismore. Runoff from the new carpark drains into gardens where the soil microbes and plants treat pollutants including hydro-carbons.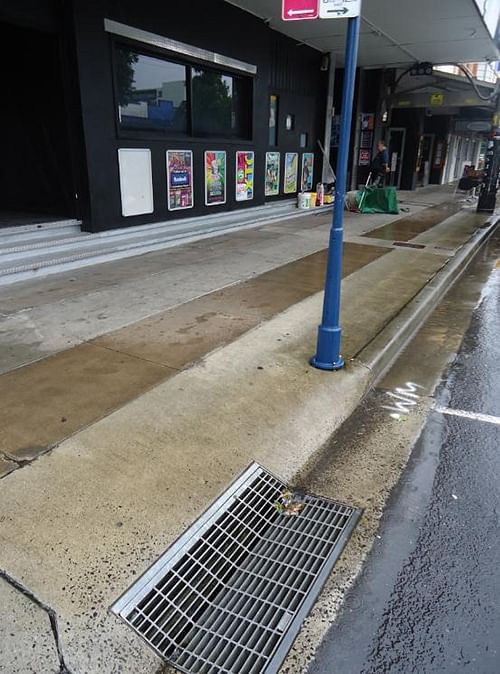 May 2013: CBD litter baskets outside pubs and clubs.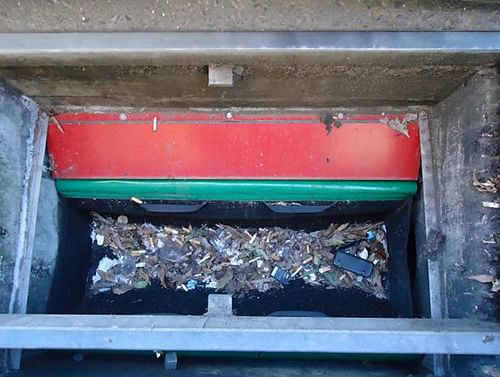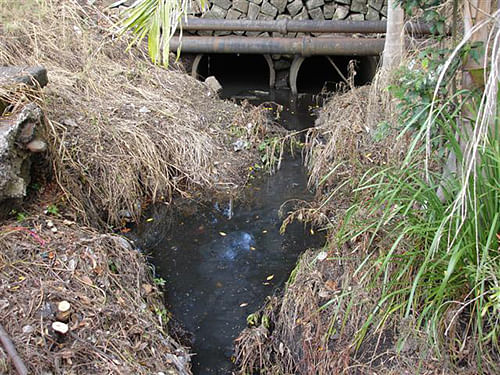 2010-2012: Gas Works Creek – restoration, head wall reconstruction and litter cages. These photos show the original culvert to the installation of a headwall and litter cages. Litter baskets trap organic material like leaves and grass clippings, and litter. They will be monitored and cleared regularly.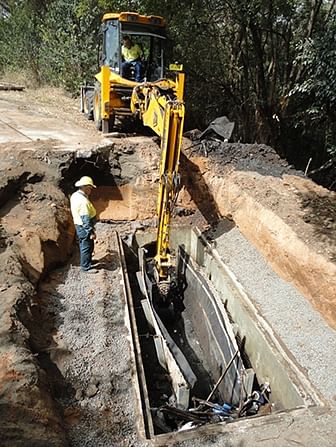 October 2013: Gross pollutant trap (Ecosol RSF 4000) replacement at Campbell Crescent, Goonellabah. A blocked and unmaintained gross pollutant trap was cleared of years of debris including a child's bike, car tyres and litter. It is now able to do its job properly and is being regularly cleaned.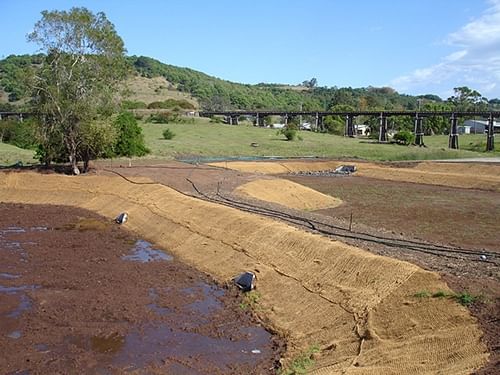 September-November 2013: Slaters Creek constructed wetland. Below you can see the wetland cells excavated and planted with an irrigation system in place for dry weather period, then the reeds beginning to thrive after the first spring shower, following by the plantings flourishing some months later.