Business Flood Grant
The Business Flood Grant program, developed in partnership with and fully funded by the NSW Government, is delivering up to $250,000 (excluding GST) to encourage business owners and owners of business premises within flood-prone urban areas to become 'flood ready'.
This 2020/21 grant opportunity has provided small business with financial assistance to undertake works to upgrade or establish flood-related fixtures and infrastructure to become 'flood ready' and support business continuity following a major flood event.
Some of the
15 flood-affected Lismore businesses which received a grant from the $250,000 Business Flood Grant program have participated in case studies as part of this program
to build awareness of small scale projects that can increase resilience to climate change impacts.
FROM HOIST TO MEZZANINE
Mark and Sarah Frost who own Advanced Automotive Solutions Lismore have always been focused on servicing Mercedes-Benz owners in their Conway Street workshop, regularly hoisting cars up high to complete repair jobs.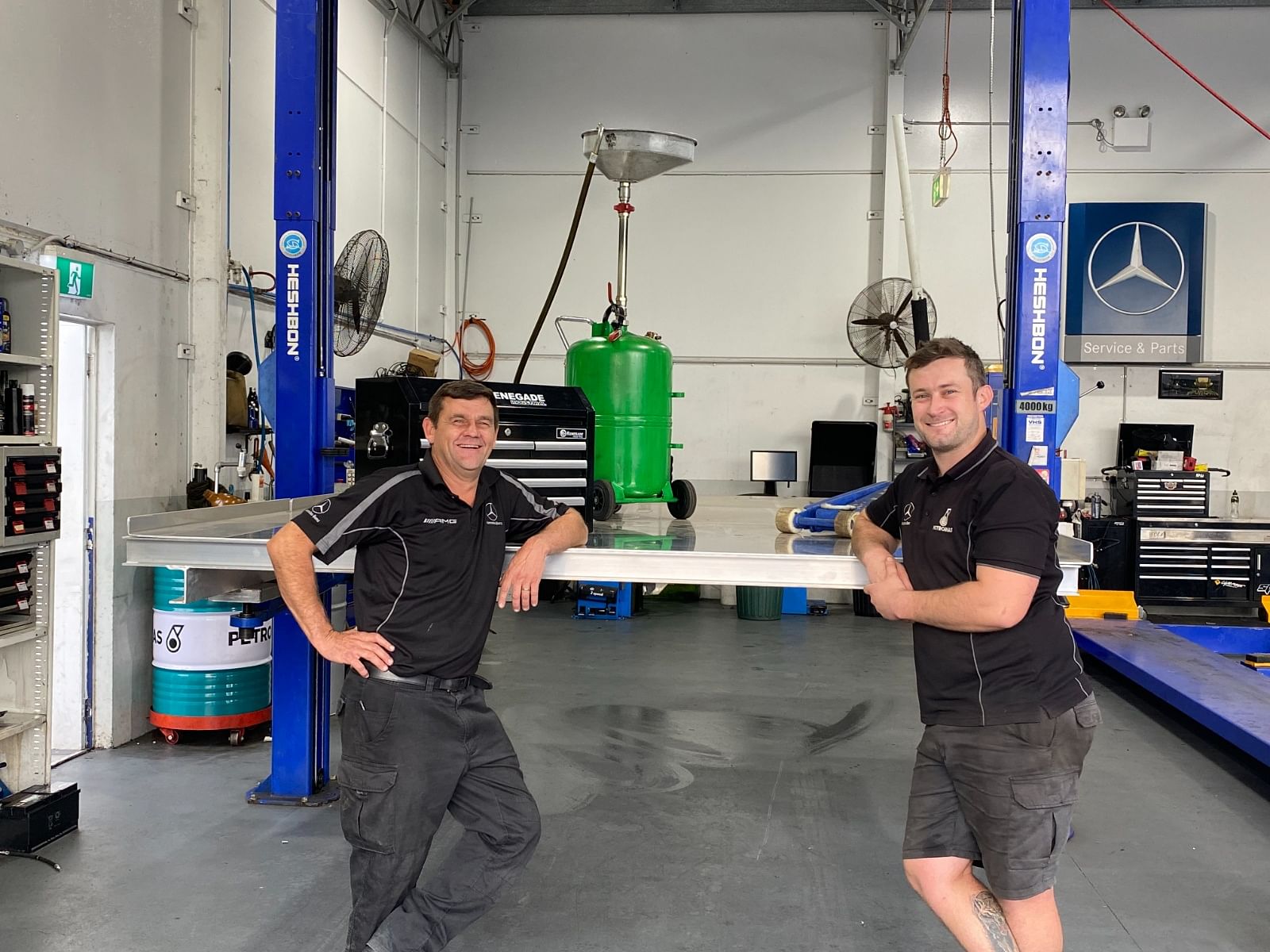 The workshop was inundated with flood water in March 2017, destroying valuable items such as tools and workbenches. This made it impossible for them to re-open their doors as quickly as they would have liked.
Learning from the lessons of the flood, the team came up with their own advanced solution. They used the Flood Grant to employ a fabricator to weld large alloy platforms that fit on to alloy frames which can be connected to the existing car hoists in the workshop. This creates a mezzanine level that can store workshop items at a safer height.
"With so many items, time is a critical factor and we cannot rely on using a vehicle to move important items away. Utilising equipment already available to us, such as the hoist, just seemed like the logical solution," Mark said.
"It does take a team of us to assemble the platforms, but once this is done we can store many items that are then lifted to a safe height." Sarah feels this solution stops any potential environmental hazards and allows the business to start operating again much quicker after a flood.
"Ensuring hazards such as used oils are out of flood waters mean it is safer for the environment and the overall clean-up needed to have the workshop back in operation is so much faster, cleaner and safer," she said.
QUICK CLEAN-UP
Next time Lismore floods, Kaylene from Woodlark-based Lismore Cruise and Travel reckons it will take her about a week to reopen the doors to her business rather than the three weeks following the March 2017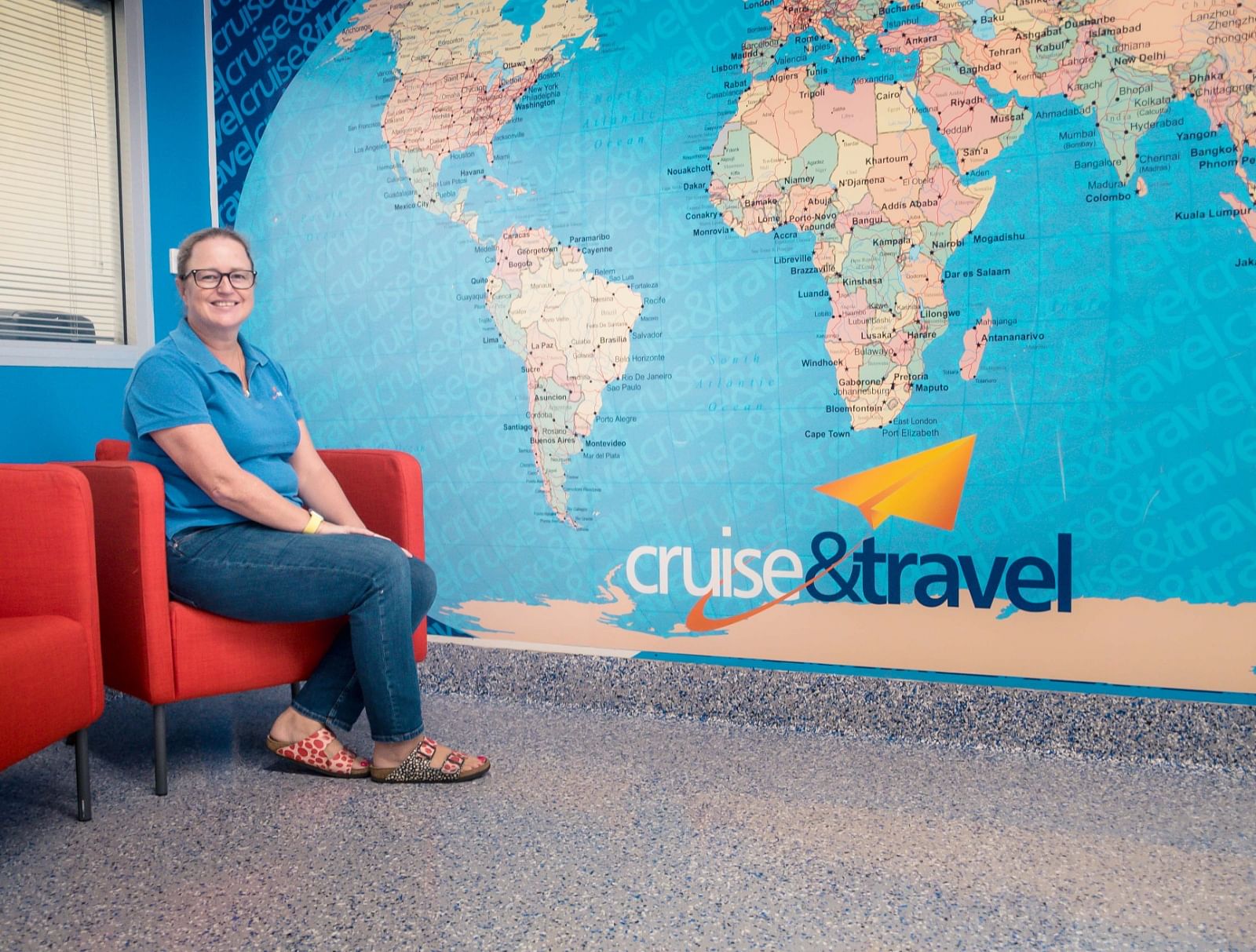 .
The difference she said is the easy to wash out flooring and other changes she has made to her business thanks to the Business Flood Grant she received from Lismore City Council, funded by the State Government.
Located in one of Lismore's older buildings, more than a metre of flood waters entered
Lismore Cruise and Travel and
got into the power and data points close to the floor, as well its plastered walls that hid the original concrete walls.
This meant the company had no access to power or data.

MAKING IT MOBILE
Lazuli and Co. Director Peta Tillett has always been innovative with her hair colours and amazing styles at her Molesworth St hair and make-up salon. However, her creative innovation took a giant leap forward thanks to the Business Flood Grant she received from Lismore City Council, funded by the NSW Government.
Located in a building that backs on to the river, the funding has allowed Peta to quickly move her hair salon's workstations and products when the river threatens.
To do this, Peta had to get innovative with her hair and make-up furniture, creating a portable workstation that can be wheeled away to safer height.
When water entered the premises in 2017, everything was destroyed including mirrors, work benches, valuable stock and power points.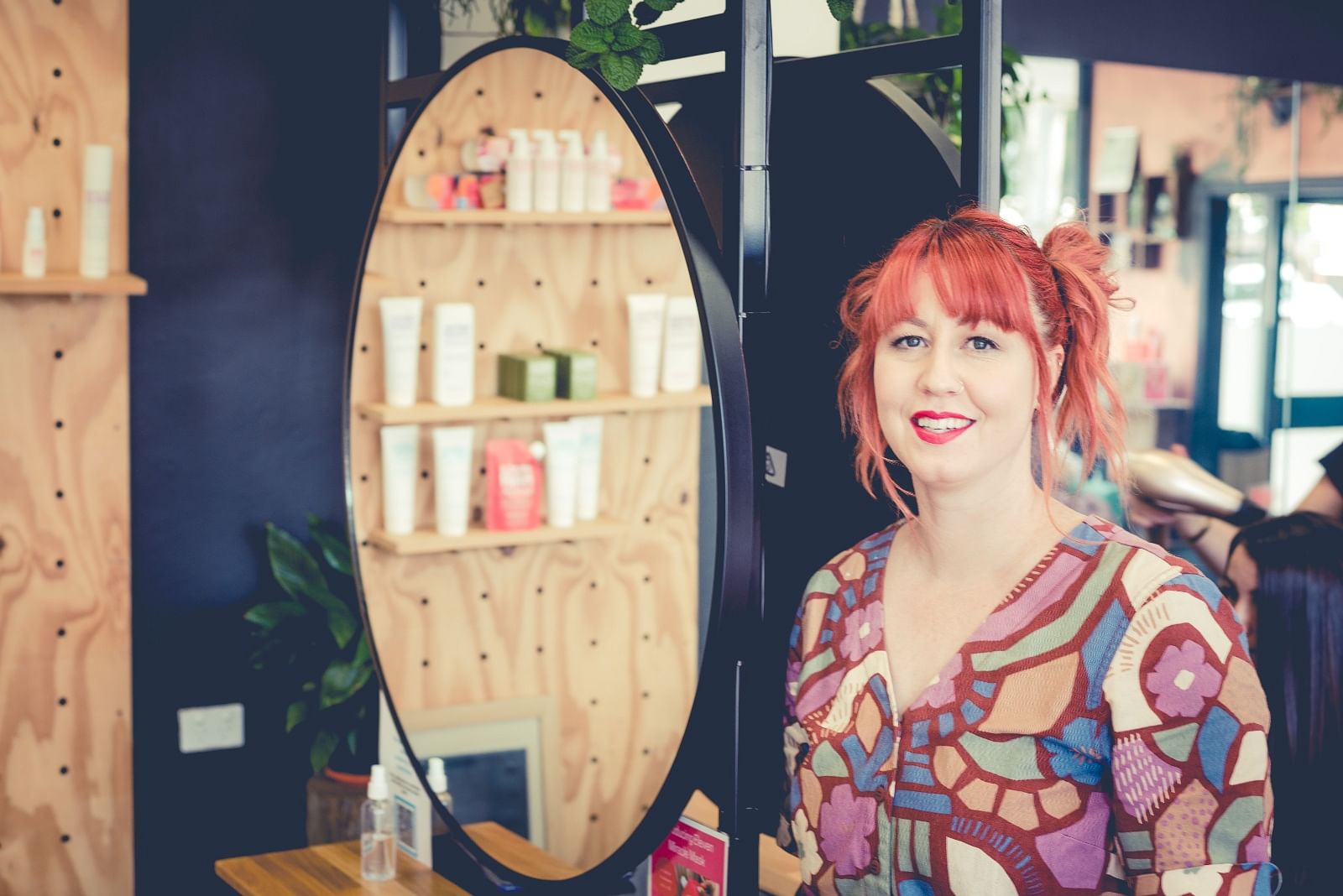 Peta used the grant to employ a fabricator who helped her build a stylish and convenient mobile workstation.
"I applied for this grant because it was important to ensure we can move valuable items and stock to safer ground much faster and keep them safe from damage. This will allow us to trade again much sooner," she said.
"Our portable workstations not only look good, they are effective with our day-to-day tasks and we can move them around and reshape the room easily for any training events we host, but of course move them to safety if a flood were to occur again."
Peta also used the grant to install new shelving and storage space higher up to protect expensive stock and items, elevate power points to a safer height and repair and paint walls.
"Another priority for us is managing our expensive range of stock and cosmetic range, and the new shelving allows us to store these items much higher in a safer location," she said.
"Ensuring our workstations and stock remain safe means we can resume trading much faster."
ELEVATED IN STYLE
Shoppe One owners Janice and Graeme Palmer have enjoyed their meticulous placement of all thing's homewares and jewellery at their Keen Street shop. However, the ability to move items out of harm's way during a flood has now an added advantage thanks to the Business Flood Grant they received from Lismore City Council and funded by the NSW Government.
Shoppe One is filled with hundreds of items all neatly stacked on shelves and cabinets which can be a challenge to move during a flood.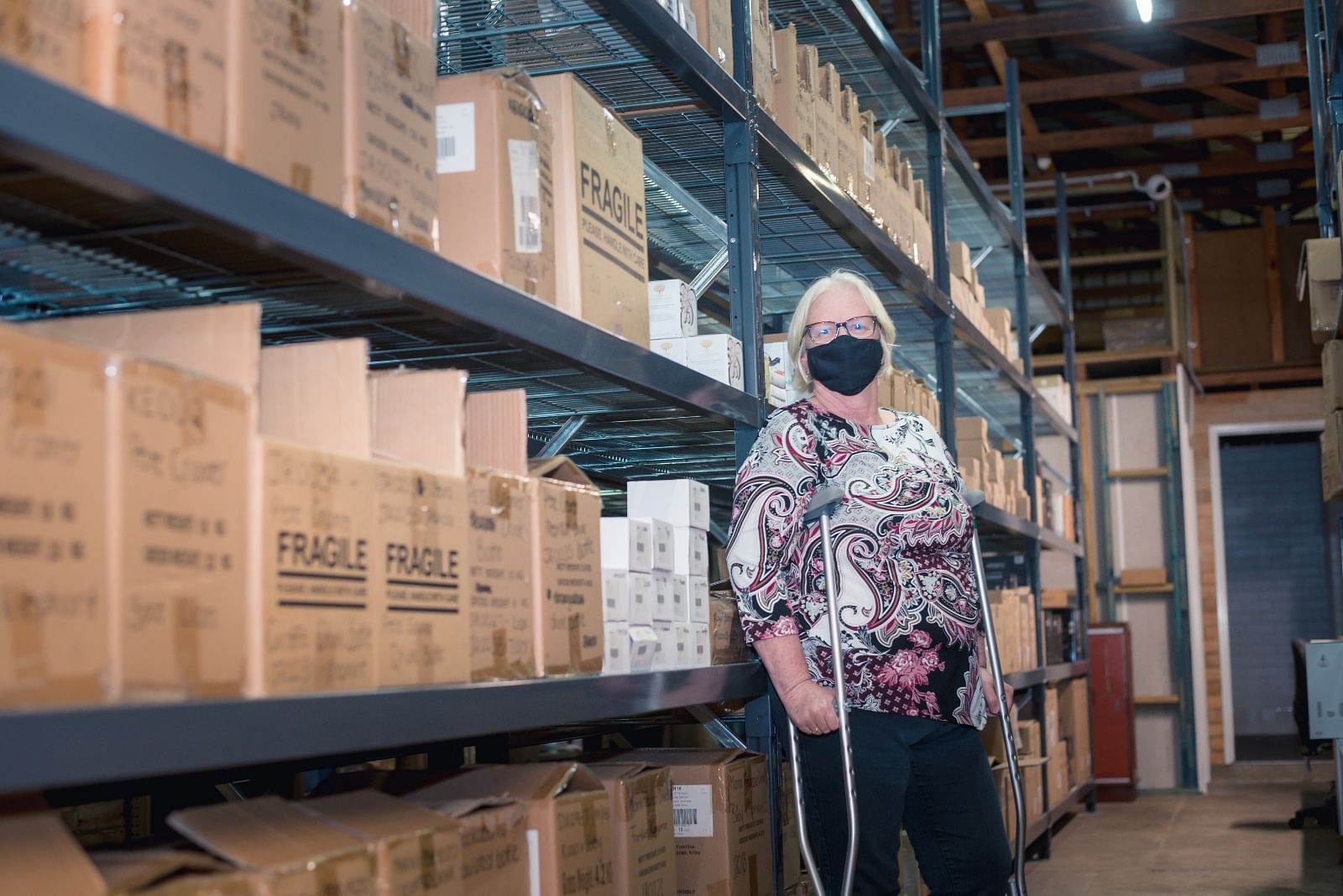 However, due to the funding, items can now be quickly moved and stored in new fabricated pallet racking, which is bolted on the ground, and is designed for easy access to store items.
When water entered the premises in 2017, up to 40% of items were destroyed as the only storage available was mostly upstairs, or old unsecured cabinets located on ground level.
The exhausting task of transporting items upstairs wasted valuable time, plus the old cabinets could not withstand the pressures of the flood water.
Janice said the new solution has a wide range of benefits, not just for flood management, but also for their daily operations.
"The new solution allows for a faster removal of items, better storage management using ladders and the benefit of additional storage for day-to-day operations," she said.
"Our old shelves were flimsy, and now we can breathe a lot easier having top quality locally made shelving that is secure, above flood height and easy to clean."
Janice also used the grant to install electrical cabling to elevate power points and switches above flood height, ensuring they can return to trade post-flood much faster.
"A huge priority for us was avoiding another huge electrical repair bill which also cost us time in returning to trade due to the extensive repairs needed," she said.