Educational resources, booklets and planning tools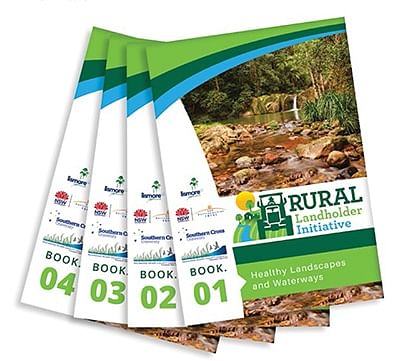 Lismore City Council has a range of educational resources, booklets and planning tools to help landholders manage their property and plan biodiversity actions or on-ground works.
We encouragers landholders to download and use these resources, examples and templates to help you manage your property and protect our natural environment.
Farm Health Assessment Tool and Education Booklets
Lismore City Council, in partnership with Southern Cross University, developed a Farm Health Assessment Tool. This tool enables landholders to self-assess their own land management practices against those identified as 'out-dated', 'common' or 'best' practice' in a range of land use situations. There are suggested pathways for improvement and landholders can use the tools as a form of 'self-monitoring' when managing biodiversity on their properties.
These booklets were developed in consultation with industry groups, landholders and relevant experts in land management.
There are four booklets which focus on different land management issues in major industries in the Lismore LGA.
Book 1: Healthy landscapes and waterways (this applies to ALL landowners)
The following books are in addition to Book 1:
Book 2: Beef grazing and dairying
Book 3: Macadamias and other orchards
Property planning
Below is a range of examples and templates for property and site action planning. These can help landholders understand how to structure a plan that will map what assets and issues you have and help you improve your property over time with key milestones, actions and timelines.
Property Planning - the Big Picture
Template - Site Action Plan (Simple One Pager)
Template - Property and Site Action Plan
Site Action Plan Guidelines (Bush Futures)
Example - Farm Plan (production based)
Example - Draft Roseberry Creek Quarry Plan
Fact Sheet - Easy Steps Towards a Property Plan
Fact Sheet - Governing Policy in Rural Areas (Byron Shire Council)
Native Vegetation Plantings (RRCC)
Revegetation Guide for Subtropical Forest
Revegetating Streams in the Richmond Catchment - a Guide to Species and Planting Methods
If you wish to provide feedback about any of our resources, please email us at council@lismore.nsw.gov.au