Wildlife Roadstrike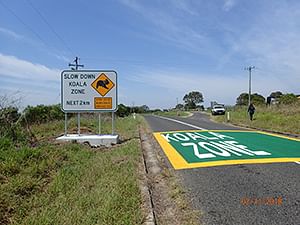 Council's Environmental Strategies team engaged Sandpiper Ecological to analyse the best available data on wildlife roadstrike in the Lismore LGA and come up with come up recommendations for how to mitigate roadstrike in priority areas.
The Wildlife Roadkill Mitigation Report for the Lismore Local Government Area presents a toolbox for mitigation. Findings included:
In the Lismore LGA, there were 2,780 roadstrikes of native wildlife, excluding koalas, recorded during 2010-2018 (WIRES data) and 394 koala roadstrikes between 2005-2-17 (Friends of the Koala (FOK) data).
74% of koalas died as a result of roadstrike.
Causes of roadstrike are varied but vehicle speed, visibility and driver vigilance appear to be key factors.
To guide what measures to include in the roadstrike mitigation toolbox, roadstrike black spots were identified across the Lismore LGA using koala roadstrike records (FOK data) as this was the best data available.
Black spots were rated according to the intensity of koala roadstrikes/ km/ generation with a generation time being five years.
This resulted in the identification of four major, four moderate, nine minor and five slight koala roadstrike black spots (see report Table 12 p. 28 for details).
A number of the major and moderate blackspots are on NSW Transport managed roads such as Bruxner Hwy and Bangalow Rd.
Council is seeking external funds and working Transport NSW to implement some of recommendations on the highest priority roads.
In January 2019 Council installed the first koala zones on Wyrallah and Tuckarimba Roads. This has resulted in speed decreases along these roads. Anecdotal reports have also seen an increase in driver vigilance with people's increased awareness due to zones signage resulting in misses of koalas and echidnas along Wyrallah Road within the zone. The effectiveness of the zone in decreasing koala roadstrike will be measured by comparing the next 5 years of data with the previous years.
A copy of the report is available here