Free field days for local landholders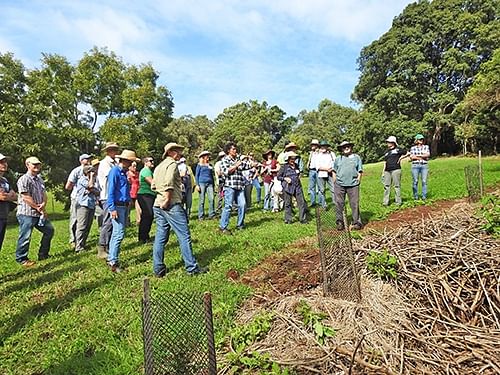 Our free Rural Landholder Initiative field days focus on practical ways to manage rural properties. Topics covered may include:
Effectively managing environmental weeds, including camphor laurel, coral trees, lantana, privet etc.
Restoring waterways and managing erosion.
Looking after soil biology to reduce landholder costs.
Restoring habitat for threatened species such as koalas.
The field days are a great opportunity to meet other landholders, network, share stories about challanges and swap ideas on land management practices and techniques.
These field days are held on properties where the landholders have demonstrated exceptional land management practices and have great vision to improve their land for biodiversity. Council refers to these landholders as our 'landholder champions'.
We have only held one field day in 2020 due to COVID-19. See below for a brief summary on this as well as other upcoming field days for 2020. We will advise dates when they are scheduled.

Native Bees and Other Mini Beasts: The Benefits of Pollinators in Macadamia Orchards
When: Thursday, 6 March 2020
Where: Lindendale
Time: 9am to 2pm
This practical field day was attended by macadamia growers keen to introduce or better support native bees and other pollinator populations in their orchards and ensure bees are performing at their best during crop bloom. Presentations were followed by a paddock walk to look for insects in non-crop flowers based on research survey protocols.
Below is a video and PDF of the presentation given on the day by guest speaker Dr Megan Halcroft from Bees Business entitled 'Australian Native Bees as Crop Pollinators'. You can also view a video of the property walk through.
Australian Native Bees as Crop Pollinators - PDF Presentation
Native Bees and Other Mini Beasts Field Day - Property Walk Video
Field days still to come in 2020...

Terania Creek New Riparian Weeds and Rainforest Field Day
When: Friday, 16 October
Where: Terania Creek
Time: 10am to 2pm
Landholders in the Terania and Tuntable Creek catchments are invited to attend this event on Job's Tears to explore a range of restoration options. Job's Tears is a tall perennial grass from India and a new weed rapidly spreading downstream causing damage to the riparian zone and aquatic habitat.
Topics will include:
Science in the Paddock

–

practical considerations for restoration ecology within our local landscapes.
Bank erosion and management, geomorphic processes in action throughout the local catchments, options, associated costs and approval processes.
What landholders need to know about their biosecurity responsibilities around managing weeds on private property.
Practical solutions for land managers in the face of new and existing pest and weed threats.
Information on this local Job's Tears project including treatment, trials and results.
In light of COVID-19 restrictions numbers will be limited to 20 landholders with preference given to residents of the Tuntable and Terania Creek catchments.
Limited numbers by invitation.
Below is a series of short videos from previous field days highlighting a range of interesting topics:
Video: Georgica Field Day – Rural Lifestyle and Biodiversity
Video: Whian Whian Field Day – Mixed Orchards and Biodiversity
Video: Coraki Field Day – Floodplain Cropping and Biodiversity
Video: Boarharbour Field Day – Grazing and Biodiversity in our Water Catchments