Level 1 water restrictions across Lismore LGA
Monday, 09 December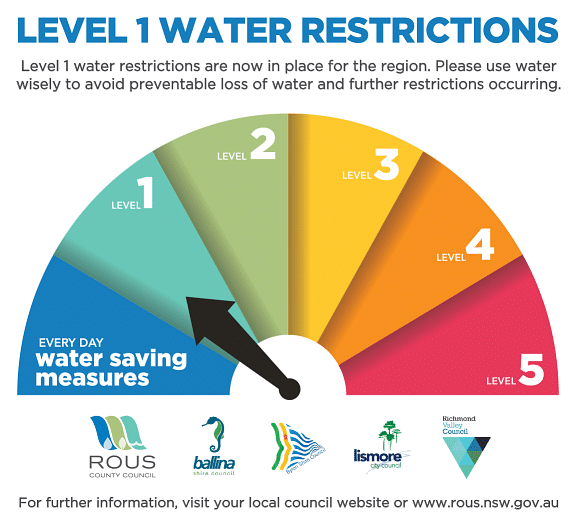 Level 1 Water Restrictions will apply to Lismore Local Government Area as of Saturday 7 December 2019.
Nimbin is now on Level 3 Water Restrictions.
Restrictions have been introduced early in response to high water usage by the community, low inflows into the region's main dam at Rocky Creek and a dry outlook for summer.

Without moderate rainfall before the end of the year, the catchment of Rocky Creek Dam will experience its lowest rainfall since 1973 – and a quarter less rainfall than was received during each of the years of the millennial drought.

Rous County Council's Chairman, Cr Keith Williams, said the region will face Level 2 restrictions before Christmas if the community does not act now to reduce demand.
"If water usage is not cut by five per cent and there is no significant rainfall it is likely we will increase water restrictions to Level 2 before Christmas."
Water consumption across the region was more than 25 per cent higher in October and November than for the same period last year. Consumption has not decreased since Council announced it would bring in water restrictions early when Rocky Creek Dam reaches 70 per cent instead of 60 per cent.
"We need the community to respond to these extreme conditions and reduce their consumption now. We're relying on the community being aware of this situation and implementing Level 1 water restrictions for themselves as a minimum.
"While there has been an ongoing increase in the volume of water delivered by water carters, during the last month they collectively supplied around the equivalent of one day's water supply to the entire Rous network.
"We will continue to work with water carters and our constituent councils to improve access to water to reduce wait times. We expect to have two additional water fill stations installed before Christmas and only be available for non-commercial water carters. So, residents and businesses who can transport small quantities of water will be able to access these sites and not have to wait for water carters. This should also reduce the wait times for commercial water carters at the 11 other bulk filling stations.
"Residents and businesses on tank water generally have a higher level of awareness of their water usage. However, with a predicted hot and dry summer ahead and long wait times for water carters, it's more important than ever for people on water tanks to be prepared by checking their tanks regularly and making arrangements for water deliveries well in advance of running out."
The region's primary water source, Rocky Creek Dam, is sitting at 70 per cent as of 7 December 2019. It supplies drinking water to areas stretching from Woodburn in the south, north to Ocean Shores and west to Lismore and Coraki. Emigrant Creek Dam also supplies water to the Ballina and Lennox Heads areas and is sitting at 58 per cent as of 7 December 2019
Cr Williams said business and commercial operators are not exempt from the restrictions and will need to reduce their water usage along with the rest of the community, especially tourism and accommodation providers as the region moves into the high season.
For public swimming pools, commercial pools and spas, commercial car washers and water parks, this means logging water use. Efficient high pressure, low flow rate cleaners with trigger controls are required for commercial cleaning activities. The washing of driveways and paved areas is permitted prior to sale or lease of property only with your local Council's approval. Irrigating golf fairways with mains water is not permitted.
Level 1 water saving measures for residential urban and rural premises include:
• no watering of established lawns
• no water play tools, toys and slides
• fitting all hand-held hoses with on/off trigger nozzles
• watering established gardens is permitted with hand-held hoses for one hour every second day, between 4.00pm and 9.00am on odd or even days of the month to match the house numbering system
• topping up swimming pools is permitted between 4.00pm and 9.00am using a hand-held hose
• washing cars with hand-held hoses is permitted between 4.00pm and 9.00am on odd or even days of the month to match the house numbering system.
The full list of water saving measures, including those for public facilities and business, can be found here.
Northern Rivers' residents use an average 194 litres of water per person per day.