Free field days for local landholders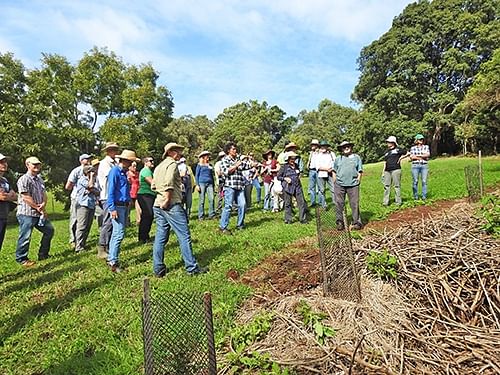 Our free Rural Landholder Initiative field days focus on practical ways to manage rural properties. Topics covered may include:
Effectively managing environmental weeds, including camphor laurel, coral trees, lantana, privet etc.
Restoring waterways and managing erosion.
Looking after soil biology to reduce landholder costs.
Restoring habitat for threatened species such as koalas.
The field days are a great opportunity to meet other landholders, network, share stories about challanges and swap ideas on land management practices and techniques.
These field days are held on properties where the landholders have demonstrated exceptional land management practices and have great vision to improve their land for biodiversity. Council refers to these landholders as our 'landholder champions'.
We will update this page in early 2021 with our free fields for the year.

Below is a series of short videos from some of our previous field days highlighting a range of interesting topics:
Video: Georgica Field Day – Rural Lifestyle and Biodiversity
Video: Whian Whian Field Day – Mixed Orchards and Biodiversity
Video: Coraki Field Day – Floodplain Cropping and Biodiversity
Video: Boarharbour Field Day – Grazing and Biodiversity in our Water Catchments