Information on controlling our Indian Myna plague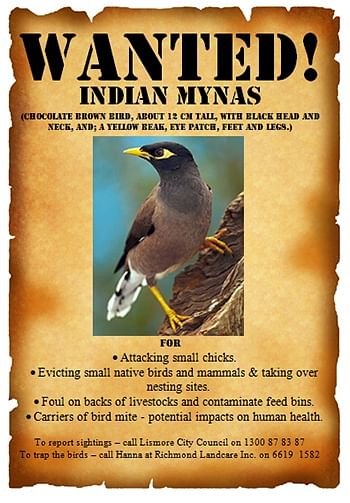 Like some other introduced species, the Indian Myna has become a pest in the Northern Rivers.
They can now be found in suburban backyards and rural properties across Lismore, and they continue to breed quickly and displace native wildlife.
Council and Richmond Landcare facilitate the Indian Myna Control Project, which encourages residents to help eradicate these unwanted renegades from our region.
Traps are made by volunteers at the Lismore Men & Community Shed, and residents pay a small price to hire one. There are currently over 60 community volunteers including farmers actively involved in trapping the birds on private property and local vets including Lismore Vet Clinic and Clarke-Williams James in Goonellabah are assisting with euthanising options.
Indian Mynas were introduced to Australia in the late 1860s to control insects in market gardens. Originally widespread in south Asia, they have now established over most of eastern Australia.
Indian Mynas have become a huge problem in cities and urban centres. They have been able to effectively adapt to a range of conditions and exploit a wide variety of food types. They congregate in areas where food sources are regularly available, around schools, shopping centres, parks and sporting fields. They also daringly take pet food and bird seed from urban backyards.
Mynas also thrive in rural areas and congregate near cattle farms and dairies where feedlots are readily accessible. Racing stables and farms with chook pens are also prime scavenging areas for Indian Mynas.
The birds foul nesting sites, attack chicks of other species and breed in tree hollows, rendering them unusable by native wildlife.
The Lismore Indian Myna Control Project started in 2009 and more volunteers to trap birds are needed now more than ever.
You can find out more in the handbook below and return the trapping agreement to get involved. For more information phone us on (02) 6625 0500.
Indian Myna Control Project Handbook
Indian Myna Trapping Agreement