Lismore Biodiversity Awards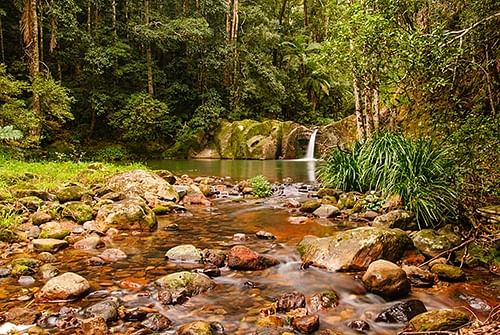 On Thursday, 12 September Lismore City Council held its second biennial Lismore Biodiversity Awards to recognise exceptional community groups, educators and schools, primary producers and rural landholders who are improving biodiversity values that support healthy habitats and native wildlife.
Each of the winners received a $1000 cheque with support from our wonderful sponsors who contributed nearly $3000 in funds for the awards; the NSW Department of Primary Industry, North Coast Local Land Services, Firewheel Rainforest Nursery and Richmond Landcare Inc. Our winners and all the nominees show great passion for the environment and an enduring love for the land that is demonstrated in the legacy they are creating.

2019 Award Winners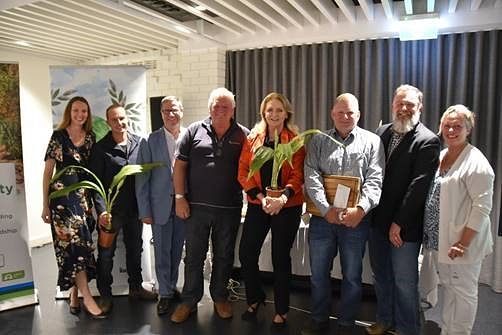 From left: Primary Producer nominees Katie and Ryan Hathaway, Cr Neil Marks, nominees Alan and Diana Graham, our winners Stephen Genrich and Bruno Bortolo and Diana Unsworth from NSW Dept. Primary Industry.
NSW Department of Primary Industry - Primary Producer Award
Bruno Bertolo and Stephen Genrich own a macadamia farm and mixed orchard at Whian Whian and are local leaders for regenerative agriculture. They use large scale composting to build soil health, constructed a wetland to filter and slow runoff and increase biodiversity, and planted a koala corridor along their boundary. The have hosted several field days on the farm, sharing their knowledge and passion for land stewardship, composting and integrated pest control.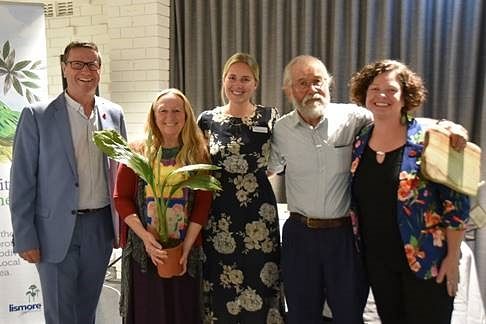 North Coast Local Land Services Rural Landholder Award
Leigh Davison is a founding member of the 250-acre Dharmananda community at The Channon, once a heavily cleared dairy then banana farm. Leigh has worked tirelessly for decades to restore remnant rainforest and wet sclerophyll forest on the slopes and creeks, focusing on strategic lantana and camphor control, successfully applying for many grants and more recently employing work teams to continue his great work.
From left: Cr Neil Marks, Rural Landholder nominee Katrina Jeffery, Ella Rasmussen from NCLLS, our winner Leigh Davison and Cr Elly Bird.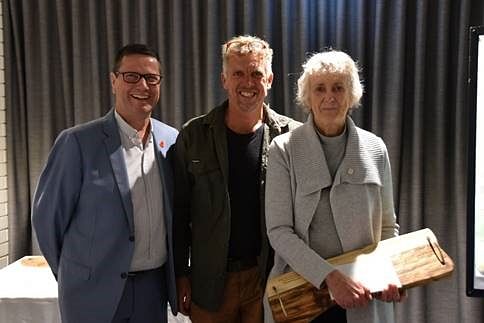 Community Group Award
Friends of the Koala are a North Coast institution operating for 30 years. Their aim to enhance and protect koala habitat has seen them become the lead organisation fighting for koalas in the Northern Rivers. They maintain a 24/7 rescue hotline; rescue, rehabilitate and release sick and injured koalas; operate both a triage, treatment and pathology clinic as well as an education and administration centre in East Lismore. They have a volunteer base of more than 100 people, have distributed more than 150,000 koala food trees, brought more than 5000 koalas into care and released more than 1230 koalas back into the wild.
From left: Cr Neil Marks with Award sponsor Mark Dunphy from Fire-wheel Rainforest Nursery and Roslyn Irwin from Friends of the Koala.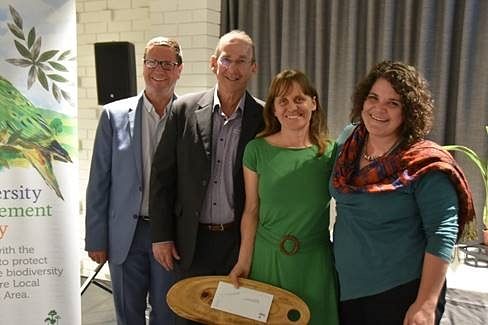 Educator or School Award
Emma Stone, member of Whian Whian Landcare, pursues passions and activities that stretch across the broad scope of Landcare including biodiversity, sustainable agriculture and resilient and connected rural communities. Not only does she work to restore the land on which she lives, she supports all those around her to do the same, whether it be via a one-on-one site visit with a landholder or running a workshop with the local School, Emma gives generously of her time and expertise.
Our other nominees were also celebrated and received gift vouchers, books or a spectacular native Swamp Orchid from Fire-wheel Rainforest Nursery. Congratulations everyone.
From left: Cr Neil Marks, Jim Kinkead, our winner Emma Stone and Hannah Rice-Hayes from Richmond Landcare Inc.
Special thanks to our very generous sponsors NSW Dept. of Primary Industry Clean Coastal Catchments, North Coast Local Land Services, Richmond Landcare Inc. and Fire-wheel Nursery.