2022 Australia Day Ambassadors announced
Thursday, 13 January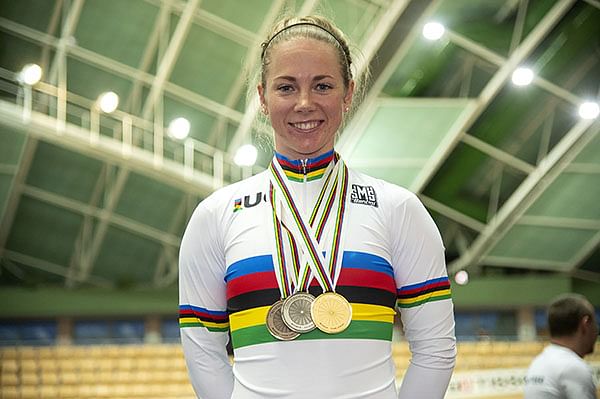 Olympian couple Kaarle McCulloch and Kevin Chavez are Lismore's 2022 Australia Day Ambassadors.
Kaarle was a medal winning cyclist in the 2012 London Olympic Games and rode in two events at the 2020 Tokyo Games, while Kevin was a diver the 2016 Olympic Games in Rio.
"We are thrilled to have Kaarle and Kevin as our Australia Day Ambassadors," Mayor Steve Krieg said.
"This Olympic duo have a long list of accomplishments to their names and we are honoured to welcome them both as our guests on the day, give an Australia Day address and help present our 2022 Australia Day Awards."

Kaarle McCulloch is a recently retired professional track sprint cyclist. With a career spanning 15 years, Kaarle achieved many accolades in her career including Olympic Bronze at the London 2012 Olympic Games, becoming World Champion 4 times, 21 Oceania Championships and 15 Australian Championships.

Kaarle's personal highlight was her 500m Time Trial gold medal at the 2018 Commonwealth Games on the Gold Coast. Winning in front of a home crowd was a special moment that she will cherish for life.

Kaarle has been active within sport in Australia in advocating for the rights of all athletes and is a member of three separate athlete advisory groups. Sport has come a long way since Kaarle began and she has successfully helped advocate for equal pay and prize money on the track for females, as well as being a voice for all athletes.

Kaarle is now focusing on finishing a teaching degree and her ultimate ambition is to help young people reach their maximum potential whether that be sport, education, or life in general.

Kevin Chavez was born in Mexico and began diving at the age of 5. It was clear from that young age that he had talent for the sport and became the junior world champion in 2010.

In 2014 Kevin suffered a bad knee injury and it was thought that he would not compete again. However, he had an opportunity to rehabilitate the injury in Australia. In 2015 he arrived in Australia and successfully rehabilitated the injury and started competing again.

Kevin began winning domestic competitions and had an opportunity to become an Australia citizen and compete for Australia. He jumped at the opportunity and in 2016 he realised his life-long dream of competing at the Olympic Games.

In 2017 Kevin suffered another bad injury in his shoulder a week out from the 2017 World Championships. Despite recovering from the injury, he decided in 2020, when the Olympics were postponed, to focus on other areas of his life which include coaching the next generation of diving stars and also applying for the Australian Defence Force.
The 2021 Australia Day Awards and Citizenship Ceremony will be held on Wednesday, 26 January at 9am at Lismore City Hall.