2023 Australia Day Award winners announced
Monday, 30 January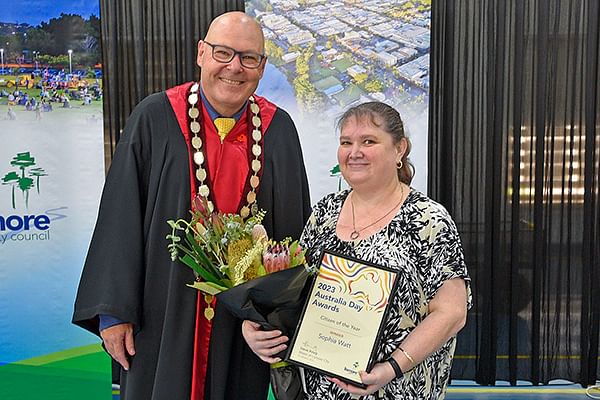 Sophia Watt has been named Lismore City Council's 2023 Citizen of the Year at this year's Australia Day Awards held at the Goonellabah Sports & Aquatic Centre.
Since the devastating February 2022 natural disaster, Sophia has cooked and delivered thousands of meals to our flood-affected community.
She has coordinated community volunteers and attracted donations to assist in her efforts to feed many people in our community.
Lismore Mayor Steve Krieg said Sophia had many personal sacrifices while helping our community throughout 2022 and exemplified the best of our community.
"I congratulate Sophie on winning this award and thank her for her commitment to our community when we were in such need," he said.
"I would also like to congratulate and thank all the winners and nominees in the various categories who have all freely given their time and energy to making Lismore an even better place to live, work and raise a family."
Other winners announced during the Australia Day celebrations were:
Aboriginal Citizen of the Year -
Naomi Moran
Naomi has led the flood recovery by setting up a grassroots ground zero disaster recovery hub at the Koori Mail building. She has been a leader to all who have worked with her and the community at large.
In 2022 Naomi was the Shine Awards Spirit Category winner for her flood relief work.
Naomi has a passion for supporting Indigenous youth with employment and career pathways by developing and delivering in-school programs and mentoring for students throughout northern NSW.
Services
in
the
Community
(Individual) -
Ron Weir
For more than 70 years Ron Weir has had an outstanding devotion to the local community. In his early 20s Ron first became involved in the Agricultural Show Society movement when he joined the North Coast National - Lismore Show.
He has organised the Dog Trials at the Show for more than 50 years, served on the Dairy and Poultry Committees for over 50 years. He has been on the NSW Crown Lands Board that runs the Showground for over 30 years retiring at this year's AGM.
Ron has also had a long-time involvement, over 65 years, with the Bangalow Show Society.
Ron is a past Grand Master of the Lismore Masonic Lodge and to this day continues to attend lodge meetings having joined in his late teens.
Ron has been a member of Rotary for over 40 years serving as Club President and District Governor. He is the recipient of Rotary's highest honour, the Paul Harris fellow.
Services
in
the
Community
(Group) -
Love for Lismore Heart Space
The Love for Lismore Heart Space has created a safe and welcoming environment for people to heal from the traumatic February natural disaster through expressive art and crafts. The group also assisted residents who lost arts/craft supplies and Christmas trees and ornaments.
They've also created a symbol of hope and rejuvenation with the heart banners we see all over town and on homes.
Senior Sportsperson - Joshua Herne
Like so many others in our town, Joshua lost his home and business in last year's disaster, yet while rebuilding he continued to race and excel in both Modlite in speedway and his go-karts.
In 2022 Joshua won a number of titles including the Queensland, Northern Territory, ACT, Tasmania and two NSW championships.
Junior Sportsperson - Lachlan O'Sullivan
Lachlan has displayed dedication and commitment to his chosen sports - gaining selection to various levels (up to and including State) in a number of teams across four sports as well as volunteer umpiring and coaching.
In 2022 Lachlan was part of the –
U16's Boys Softball State Team (Nationals in Jan 2023)

Combined Catholic Schools Boys Open Softball team

FNC U16's Baseball team

FNC U18's Baseball team

Lismore Storm U16s Shield team

U16s Lismore Storm NEJL Representative Basketball Team

FNC U15s Youth Pathways Cricket Team
Sports
Team,
Group
or
Organisation -
Under 16s Far North Coast Baseball Team
The Under 16s Far North Coast Baseball Team won the NSW Country Championship title in October 2022 despite not playing a regular season due to flood damage at the Albert Park complex.
The players had no fields to train on, and instead had to use cricket nets, tennis courts, touch football fields. They were resilient, committed and showed outstanding teamwork.
These boys, under their coach Clint McCarthy, showed tenacity and commitment towards a team goal. They were flexible in their training schedule and showed adaptability by making do with what resources they had available. The first day of the tournament was washed out and these young men just rolled with it and were all the keener to play the next day. They had their first loss to Newcastle 12-1 and managed to beat the same team 17-0 three hours later.