Council Decides: March Ordinary Council Meeting
Wednesday, 15 March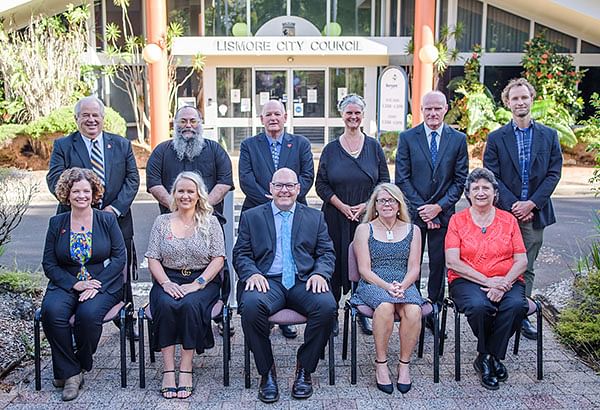 The following is a list of decisions made by Councillors at their Ordinary March meeting held on Tuesday, 14 March 2023.
The business papers and attachments for the meeting can be found at
https://lismore.nsw.gov.au/business-papers-and-agendas-for-committees-and-advisory-groups
PUBLIC ACCESS
Eight people spoke on three topics during Public Access:
One person spoke against the recommendations of the Floodplain Risk Management Committee
One spoke in favour of the seventh round of General Amendments to the LEP.
Four spoke in favour a Question on Notice about the Goonellabah Tucki Creek Landcare group.
Two spoke against to a Question on Notice about the Goonellabah Tucki Creek Landcare group.
REPORTS OF COMMITTEES
Councillors resolved to receive and adopt the recommendations contained in the Local Traffic Committee Meeting on 15 February 2023.
Councillors resolved to receive and adopt the minutes of the Floodplain Risk Management Committee for the meeting held on 6 March 2023 and the recommendations, and prepare a Planning Proposal to include Clause 5.22 (Special Flood Considerations) in its Local Environmental Plan.
REPORTS OF THE GENERAL MANAGER
Councillors resolved to support the Planning Proposal for general amendments to the Lismore Local Environmental Plan 2012 and forward it to the Department of Planning and Environment for a Gateway Determination. Councillors also confirmed that staff proceed to public exhibition of the planning proposal and government agency consultation based on the Gateway Determination. Should any objections be received, staff are to report back to Council. If no objections are made, staff are to proceed in making the LEP.
Councillors resolved to adopt the Lismore Affordable and Diverse Housing Strategy.
Councillors resolved to receive and note the February 2023 Investments Report.
Councillors resolved to submit an application to NSW Department of Industry requesting part of the Crown road, adjoining 814 Cawongla Road and dissecting 927 Cawongla Road, Larnook, be transferred to Lismore City Council to support a road closure application process being conducted by the landowner of 165A Mulvena Road, Larnook, over the Crown road (once the transfer to Council has occurred); and note the potential access issues associated with a future development proposal for 165A Mulvena Road.
Councillors resolved to facilitate the process of acquiring real property at 20 Hillside Drive, Nimbin, from Nimbin Eco-Village Pty Ltd; the General Manager be delegated authority to finalise the legal transfer of the land to Lismore City Council; acknowledge the purpose of acquiring the land is to facilitate the installation of a sewage pump station; and that once the public notice process to classify the land as Operational has closed, a further report be brought back to Council seeking a resolution to formally adopt the suitable land classification.
Councillor noted that the Nimbin Road Landslips Remediation works are entirely externally funded through Disaster Funding Relief Arrangement, that funding has been agreed to the value of $14,914,730.40, resolved that in accordance with the Local Government (General) Regulation 2021 Reg 178(1)(a), Council rejects all tenders due to particulars relating to tendered construction program and Contract, and enter into negotiations with the preferred supplier noting that the time taken to undertake a new procurement process would present an unacceptable delay to the repair of the landslip and would unreasonably impact residents of Nimbin.
Councillors resolved that Council leases a suitable office space in the CBD for the Lismore Regional Gallery team with funding from the State Government through Create NSW; the lease being for a period of six (6) months with two additional six (6) month options if required.
Councillors resolved to authorise the General Manager to prepare a community engagement plan to develop a future vision for Lismore; a workshop on the community engagement plan be held with councillors; and that any feedback from the consultation be considered for incorporation into the Community Strategic Plan.
Councillors resolved to defer adopting the Council Related Development Application Conflict of Interest Policy to its April Ordinary meeting.
Councillors received and noted the Councillor Expenses and Facilities Policy for July 2022 to December 2022.
NOTICES OF MOTION
Councillors resolved that if no agreement is reached by 17 March 2023 between residents, the Goonellabah Tucki Landcare Group and Council officers, then the officer recommendation to proceed with the 200m square option within Zone 5A, plus an alternative site is progressed.
Councillors resolved to begin the process to reduce the number of Councillors from 11 to 9 with a referendum be held at the 2024 Local Government election.
Councillors resolved to write to the Executive Council, comprising of the Governor of NSW and all NSW Cabinet Ministers, advising them that 1. Council has never resolved to constitute a Local Planning Panel, or authorised any representative of Council, to request the Minister to constitute a Local Planning Panel; 2. Councillors do not need any assistance in undertaking our roles as consent authority in relation to the minimal number of planning matters that are ultimately decided by councillors; 3. Councillors have little to no impact in relation to planning delays, since we have no direct involvement in operational matters, and rarely call any matters up for consideration by Councillors, and; 4. any assistance available to increase planning staff numbers, improve planning processing procedures, and decrease planning processing times would be very welcome, and; refuse to provide funds for the local planning panel.
Councillors resolved not to remove copyright warnings relating to webcasts of Council meetings from Council's website nor abandons recording restrictions during public Council meetings and meetings of committees of the Council.
Councillors resolved against a motion that, where use of public space does not fall clearly under existing policy, legislation, and delegated authority, all requests to use public space are submitted to Council for consideration before any consent is issued.
Councillors resolved that Council prepare Terms of Reference establishing a Disaster Management Committee; 2. the Committee consist of Councillors and relevant staff, with relevant experts invited to attend Committee meetings as required; 3. the Committee be tasked with creating, reviewing, maintaining and/or updating emergency management, disaster and/or recovery plans relating to any part of the Lismore City Council local government area; 4. except when considering sensitive or personal information during closed sessions, Committee meetings be open to the public and live streamed to allow the Committee to receive input from local residents both in attendance and viewing remotely as part the planning process; 5. the Committee be empowered to create sub committees and working groups as required, and 6. the Chair of the Committee be a Councillor, elected by Councillor members of the Committee, who can call meetings as required.
CONFIDENTIAL SESSION
Councillors resolved to exclude the press and public to consider a Code of Conduct Matter. After the session, Councillors returned to announce they had resolved that Council does not support the investigator's recommendations to censure Councillor Big Rob as it does not consider section 440G of the Local Government Act 1993 was breached.