Council services set to re-open to the public
Friday, 10 September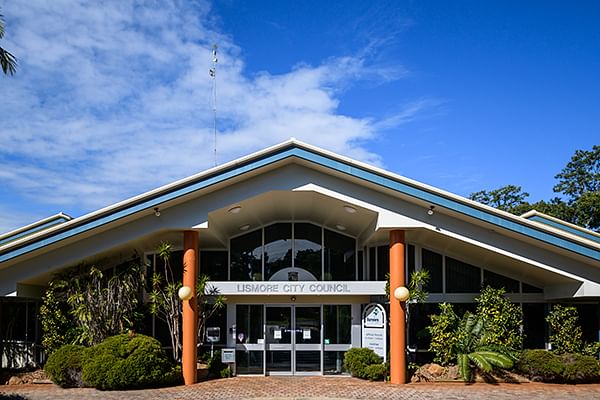 Lismore City Council is pleased to announce that many of our services will return to normal from Monday, 13 September, while some re-openings, such as the Lismore Revolve Shop, will be phased in.
"The re-opening of many of our public facilities following the lockdown is great news for our community and will be very welcomed," Mayor Vanessa Ekins said.
"I am particularly excited about the opening of the memorial baths, it has been a long time between swims.
"Since yesterday's announcement, our staff have been working hard to ensure we could re-open as many facilities as soon as possible while strictly adhering to State Government guidelines to ensure the safety of our community, visitors and staff.
"This means people entering any Council facility must wear a mask, sign in with a QR code and maintain social distancing at all times. To ensure the safety of the community and staff, anyone not adhering to these guidelines will not be permitted to enter Council facilities."
CORPORATE CENTRE
The Corporate Centre in Goonellabah will re-open to the public from Monday, 13 September operating from 8.30am to 4.30pm, Monday to Friday.
WASTE SERVICES
The Recycling & Recovery Facility on Wyrallah Road in East Lismore will re-open to the public on Saturday, 11 September with normal operating times. Online booking forms will no longer be required, however, anyone with an existing booking should still attend as planned. The CDS bulk return facility onsite will also reopen to normal days and hours.
We ask the community to be patient upon this facility re-opening as we expect many people dropping off waste and we must ensure social distancing is maintained, that's one person per 4 square metres indoors and one person per 2 square metres outdoors.
The Nimbin Transfer Station will also re-open next week with normal operating days and hours from Saturday, 11 September. Bookings will no longer be required.
We are also hoping to re-open the Lismore Revolve Shop soon, but we first need to ensure we can maintain social distancing. We will inform the community of its opening date when it is confirmed.
GSAC
The Goonellabah Sports & Aquatic Centre will re-open from Monday, 13 September operating from 6am to 7pm Monday to Friday and 7.15am to 4pm on Saturday. It will be closed on Sundays.
The Switch Fitness will resume 24-hour access from 7pm on Monday 13 September for those with a valid 24/7 access tag.
Group Fitness, Jiu Jitsu and Aqua classes will be capped at 20 people per space.
LISMORE MEMORIAL BATHS
The popular Lismore Memorial Baths will re-open for the Summer Season as planned from Monday, 13 September. It will operate Monday to Friday from 6am to 6pm, and on Saturday and Sunday from 9am to 5pm.
When daylight savings begins on Sunday, 3 October, the weekend closing times will be extended to 7pm, allowing swimmers to enjoy the warmer weather.
LIBRARIES
All libraries in the Richmond Tweed network, including Lismore and Goonellabah libraries will re-open with normal operating hours from Monday, 13 September. This includes the Mobile Library.
LISMORE REGIONAL GALLERY
The Gallery will open next week. It will operate as previously from Wednesday to Sunday between 10am and 4pm, with extended hours on Thursday until 6pm. It is closed on Monday and Tuesday.
COUNCIL MEETINGS
Council's Ordinary Monthly Meetings and weekly briefings will once again be open to the public to attend in person.
However, to ensure social distancing we will have an overflow room where members of the public may be asked to sit.
The Monthly Meetings will continue to be broadcast on Council's Facebook page and website at
www.lismore.nsw.gov.au