Delight in all things Lismore this Christmas
Wednesday, 23 November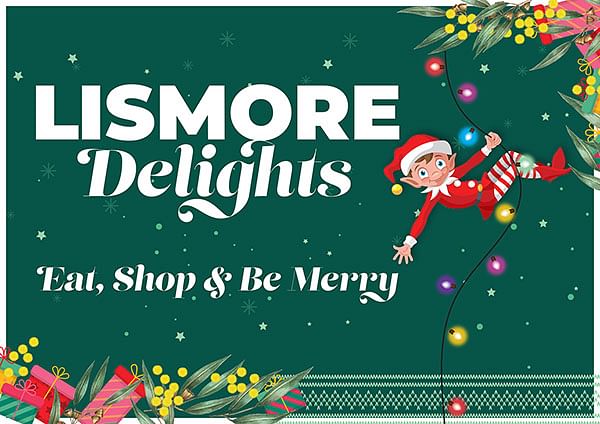 Christmas is coming and Lismore City Council invites you to eat, shop and be merry, and to delight in all things Lismore!
Lismore City Mayor Steve Krieg said Council's month-long 'Lismore Delights' Christmas festivites is designed to encourage our community to come together and celebrate how far we have come this year.
"It's time to put the last ten months behind us and celebrate who we are," he said.
"It's also time to support our local businesses and organisations, to reconnect and renew."
"Let's delight in our achievements, gather as a community and welcome visitors to Lismore – all under the glow of twinkling fairy lights and cheery Christmas decorations."
Mayor Krieg said Council is collaborating with local businesses and organisations to bring together a month of merry activities, highlighting unique CBD shopping and dining experiences, and celebrating Lismore's wonderful people and places.
Lismore Delights
features:
Christmas in Lismore launch – Welcome to Country, with Lismore Mayor welcoming Santa Claus to town and new Christmas lights and decorations to enjoy! Thursday, 1 December at 1pm at the Lismore Transit Centre.
Business Lismore mini expo – meet local businesses of all kinds, learn about products and services in a friendly and relaxed format, and enjoy shopping with many of our unique local retailers, as part of Small Business Month. Wednesday, 30 November at the Strand and Starcourt Arcades, presented by Business Lismore with support from the NSW Small Business Commission and Lismore City Council.
Lismore Delights Thursday evenings feature shopping, dining and entertainment around the Block. Find the perfect presents at Lismore's amazing stores, enjoy delicious meals and local performances, plus fun activities for families. Thursdays 1, 8, 15 and 22 December between 3pm and 8pm, throughout the CBD Block.
Tees and totes – sustainably screen print with Nedlands Studio to create yourself a Lismore Delights t-shirt or bag. 1, 11 and 15 December, various times and locations to be announced.
Santa's Wonderland returns to Lismore CBD! Bring the family to delight in the wonders and magic of Christmas, meet Santa and get a photo with him. 1-24 December at 46 Magellan Street, Wednesday to Sundays. Bookings essential for photos with Santa on Thursdays to Sunday from 3 – 23 December. To make a booking go to cometotheheart.com.au/lismoredelights
Lismore Elf Hunt and Christmas Competitions – find all seven little elves hiding in shop windows to claim your prize! Families can also enter to win Loving Local Gift Cards. 1-24 December around CBD and online.
Very Merry Market – discover festive gifts, music, food and activities brought together by Lismore Regional Gallery, The Quad, Lismore Library, Northern Rivers Conservatorium and Lismore Produce Market, with support from Lismore City Council. Thursdays 8, 15 and 22 December between 3pm and 7.30pm in and around The Quad.
Shopbaby Carols in the Heart – Lismore's much-loved carols is back for another year of fun and entertainment, this year bringing stars and community together to sing in South Lismore. Sunday, 11 December between 4.30 and 9.00pm at Nesbitt Park.
GSAC Dive in Christmas Movie – Splash over to watch The Grinch in the pool! Saturday, 17 December at 6pm, Goonellabah Sports & Aquatic Centre. Tickets available at cometotheheart.com.au/lismoredelights
For bookings and more information, visit
cometotheheart.com.au/lismoredelights