Japanese visit to show support, grow relationship
Friday, 24 June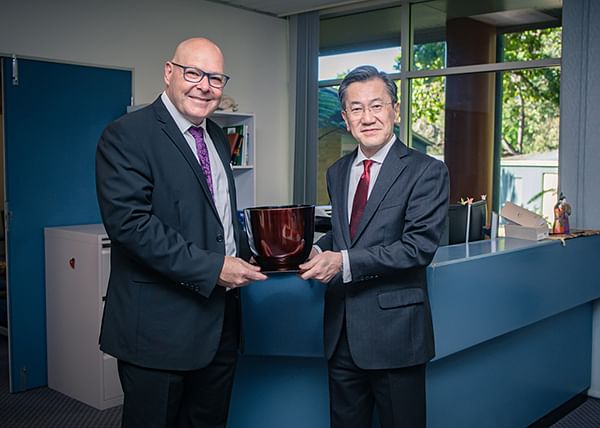 A Japanese delegation led by the Ambassador to Australia, His Excellency Shingo Yamagami, visited Lismore City Council Chambers today to meet Mayor Steve Krieg to strengthen our sister city relationship with Yamato Takada.
The delegates, which included Consul-General of Japan in Sydney, Kiya Masahiko, and the Executive Director of Japan Local Government Centre, Manya Hiraki, said they wanted to show their support for Lismore after the recent natural disaster and to continue to foster cultural sharing.
As well as formal meetings between dignitaries, the delegates will once again take part in the iconic Lismore Lantern Parade LightnUp tomorrow which has become a regular feature of visiting Japanese delegates since 2018.
Mayor Krieg said the relationship with Japan and our sister city Yamato Takada has never been stronger.
"We are delighted to host the Japanese Ambassador and all accompanying dignitaries today and appreciate their show of support to our community," he said.
"Lismore has a sister-city relationship that was forged in 1963 with Japanese city Yamato Takada, the first of its kind between the two countries. Immediately after our recent floods, the people of
Yamato Takada reached out to our community and showed their support with a donation and well wishes which we are grateful for.
"We look forward to tomorrow's Lismore Lantern Parade and walk together in this signature event for our community."
Visiting Japanese Ambassador Shingo Yamagami said he was honoured to visit Lismore and show his support after the recent devastating floods.
"We were devastated to hear the news of the floods and wanted to come today to support Lismore and hope that by visiting Mayor Krieg we can reassure our friendship and support," he said.
"We also want to continue our tradition of having Japanese representatives walking in the Lismore Lantern Parade and taking part in your wonderful community spirit."
Lismore City General Manager John Walker said relationships such as this benefit our community.
"Lismore and Yamato Takada also have an annual Student Exchange Program so high school students can gain an insight into a different culture," he said.
"This strengthens our community's knowledge of different cultures, and we hope that this exchange program continues well into the future."
Next year, the sister-city relationship between Lismore and Yamato Takada will celebrate its 60
th
anniversary. The relationship was the first of its kind between Australia and Japan, pioneered by Lismore's Father Paul Glynn in 1963.
While the relationship with Yamato Takada in Japan is the oldest and most significant, Lismore has six cultural relationships with other cities around the world – either sister city, twin city or friendship relationships.