Let's celebrate NAIDOC Week together online
Friday, 06 November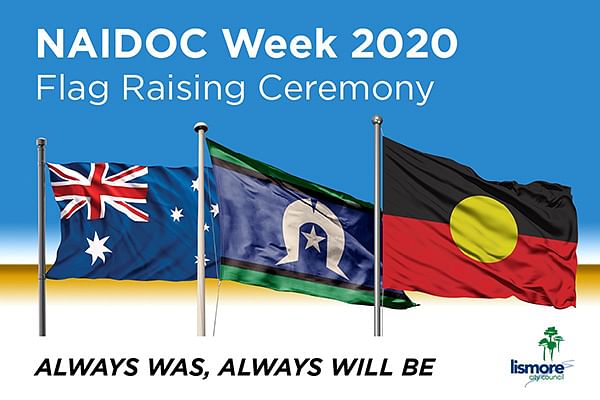 Lismore City Council will livestream a special flag-raising ceremony on Facebook this Monday to celebrate the start of NAIDOC Week 2020.
The 2020 NAIDOC theme is 'Always Was, Always Will Be' which recognises that First Nations people have occupied and cared for this continent for over 65,000 years.
The community are invited to us on Council's Facebook page at 10am for the celebrations which includes a Bundjalung Welcome to Country and a special announcement by Mayor Isaac Smith.
Even though Council's NAIDOC celebrations this year have been scaled back due to COVID-19, Council's Events Coordinator Leanne Clark said a range of events can be viewed online.
"NAIDOC Celebration Day is about providing a space where the whole community can proudly celebrate the richness of our Aboriginal and Torres Strait Islander culture," she said.
"Due to COVID, this year that space is online and we are encouraging the community to join us there.
"As well as the Flag Raising, we are working with Social Futures which is celebrating NAIDOC through share stories of resilience, hope and strength, by interviewing Aboriginal and Torres Strait Islander community members."
Each short 3-5 minute film clip will be available on the Social Futures' Facebook page.
Nimbin's annual march from the hospital to Allsop Park will go ahead on Friday at 10.30am but the number of participants is capped at 20, however, people can show their support by lining the street at a social distance. A small gathering capped at 100 people will be held after the march at the Nimbin Community Centre grounds.