Lismore Flood Fund granted ATO tax deductibility
Friday, 29 April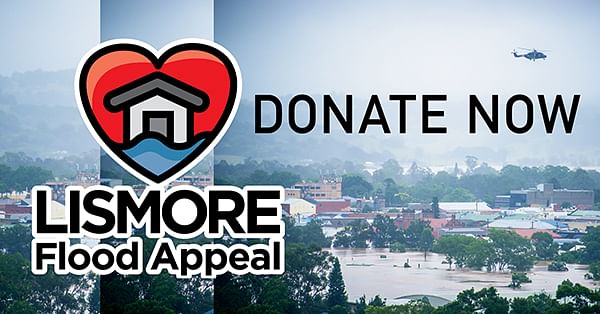 The Lismore Flood Fund has reached another milestone with the Australian Tax Office (ATO) granting the fund tax deductibility status.
This means that everyone who has made a donation to the Lismore City Council Flood Appeal fund can now claim the donated amount as a tax deduction.
To receive a tax receipt for all donations already made, and for any future donations, donors can use an online form to request a receipt from Council that will allow them to claim the deduction.
The Lismore Flood Fund has now raised more than $1.1 million from donations received from across Australia and overseas.
Council has started the process to determine how these funds will be allocated by establishing a Flood Fund Committee. The Flood Fund Committee will include all Councillors, as well as Council staff and community representatives.
Lismore City Mayor Steve Krieg said Council receiving tax deductibility means Council can focus on the next important steps - the distribution of donations.
"The response to our Flood Fund Appeal has been overwhelming with donations coming in from all over the country, and now everyone can claim their donation as a tax deduction," he said.
"This now means our Flood Fund Committee can continue to build a clear and transparent process for funds to be allocated in a timely way," he said.
"We've been very careful in how we've set up our Fund, so that we can build the best process for distributing the donations we have received.
"Under our Fund Rules, we can not only support those directly impacted by the natural disaster, but also to consider help boost the amazing work being done by community groups working on the ground."
Council will continue to update our community with the latest Fund news and announcements.
To claim a tax receipt for a donation made to the Lismore Flood Fund, please complete the Request a Receipt form by visiting
https://lismore.nsw.gov.au/request-a-receipt