Mobile Library Recognised for Innovative Service
Thursday, 10 November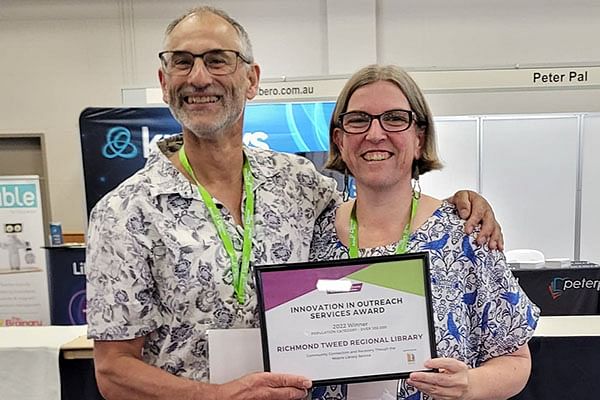 The Richmond Tweed Regional Library's Mobile Library Service has won the prestigious NSW Public Libraries Association Innovation in Outreach Award for its work in the aftermath of the February natural disaster.
Lismore City Council General Manager John Walker paid tribute to the library staff who ensured the community had access to books so soon after the devastation of the natural disaster.
"We all saw the heart-breaking photos of the large pile of sodden books outside the Lismore Library after it was inundated by flood waters," he said.
"It's an absolute tribute to the library team which could then turn around and quickly adapt the service in such a short time so that our community had access to books and some sense of normality."
The annual award recognises high-quality outreach programs and services provided by public libraries across New South Wales.
Richmond Tweed Regional Library Manager, Lucy Kinsley, also paid tribute to the library staff.
"The Lismore Library was destroyed, and the Mobile Library was damaged beyond repair, but staff ensured the service continued using the library station wagon and Pop-up Library," she said.
"This award is recognition of the hard work and determination to provide our region with a continuing service when our communities needed it the most."
The Mobile Library visits 19 locations across the Lismore, Tweed, Ballina, and Byron Local Government Areas.
Everyone is welcome to come along, get on board, and see what's on offer. With our semitrailer now back in operation, there's a lot to see and do. For stop locations and times visit the library website at
www.rtrl.nsw.gov.au