Nations are drawn for the Lismore Joeys Mini World Cup
Wednesday, 07 September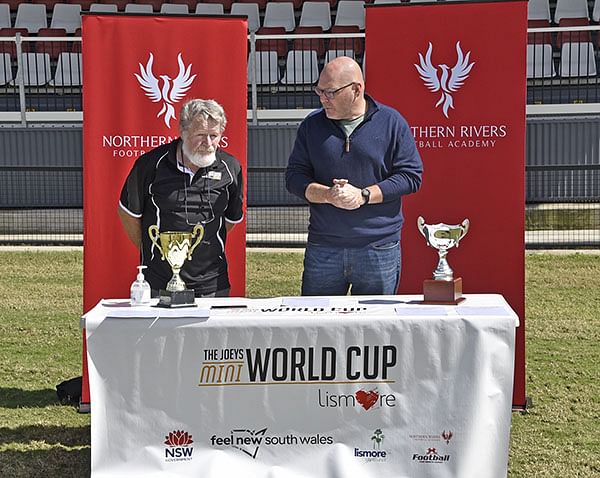 Lismore City Council Mayor Steve Krieg joined event organisers today to take part in the 2022 Joeys Mini World Cup's Nations Draw.
The Nation Draw is what sets the Joey's Mini World Cup tournament apart from regular regional football tournaments and gives the tournament its name.
The draw selects the countries that each team will represent throughout the tournament. Teams are then supplied a playing strip based on the strip their selected country wears in the World Cup.
Mayor Krieg said the Nation Draw really sets the Joeys Mini World Cup apart from your ordinary football tournament.
"Giving the kids a Country to represent, to research and to learn about is a great initiative. I am sure many of the players will have long lasting connections with the Countries that they represent throughout this event," he said.
Lismore City Council, in partnership with the NSW Government through Destination NSW, secured Lismore as the events' host city for 2022, 2023 and 2024.
Minister for Regional Youth and Minister for Tourism Ben Franklin said he is delighted for such an important event to call Lismore home.
"The NSW Government is proud to support the Joeys Mini World Cup, which is an important pipeline for the development of Australia's future professional and senior footballers. I am delighted it will be hosted in a football-loving community like Lismore for the next three years." Mr Franklin said.
"I commend the event organisers in light of recent challenges in the region and thank all stakeholders for their commitment to this event to make sure kids are back playing a high level of competitive football.
"The Joeys Mini World Cup will draw thousands of competitors, supporters and officials, which will also provide a fantastic boost to the visitor economy of the Northern Rivers region."
Mayor Krieg took part in the under 16 division draw and the teams are as follows:
Richmond Rovers – Australia
Inverell – Brazil
Northern Rivers Football Academy 1 – Holland
Northern Rivers Football Academy 2 – Germany
Toowoomba Grammar – France
Joeys FC United – England
The full teams list will be available on the Joeys FC website and Facebook page tomorrow.
More than 2000 youth from across New South Wales and Queensland will take part in the event. Games will commence on Monday, 26 September with finals being played at Oakes Oval on Saturday, 1 October.