New CBD Work Zones parking for tradespeople
Wednesday, 04 May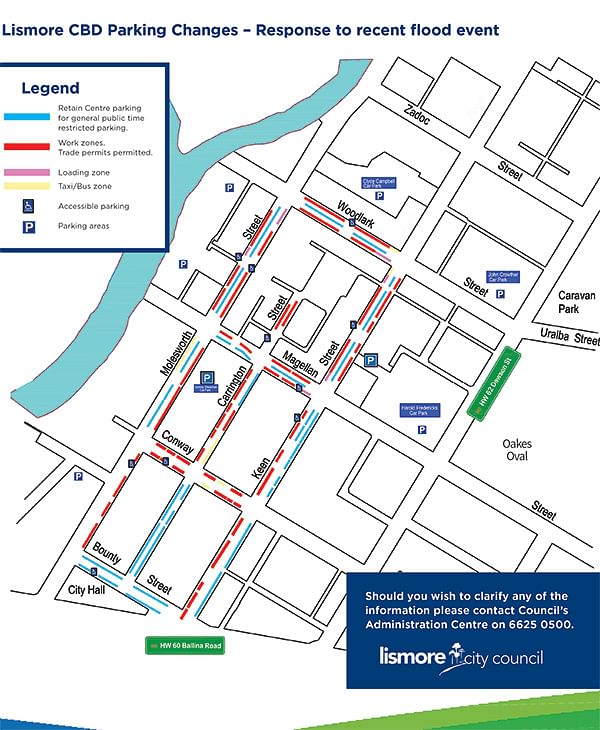 Lismore City Council will introduce new Work Zones for tradespeople working in the CBD for the next six months to help with the City's reconstruction and recovery.
Council's General Manager John Walker said the Work Zones will allow our local businesses to repair their premises and re-open their doors faster by allowing tradespeople easy access to buildings and their vehicles.
"The amount of work occurring in our CBD is increasing as more premises are starting their rebuild after the flood," he said.
"Supporting our businesses by providing tradespeople certainty for parking is critical in helping our City's recovery."
In the area known as the CBD super block, tradespeople can apply for a Trade Parking Permit to park in a dedicated Work Zone. The public are asked not to park in these zones.
The streets that define the super block are Woodlark Street (North), Keen Street (East), Conway Street (South) and Molesworth Street (West).
This means tradespeople can park in Work Zones without any time limits. However, they may not park in areas sign posted No Stopping', 'No Parking', 'Loading Zone', 'Taxi Zone', 'Disabled Parking Zone' or in paid-parking zones unless a ticket is purchased and displayed.
Trade Parking permits are free and must be displayed at all times. To apply for a Permit, you can visit the Council website at
www.lismore.nsw.gov.au/apply-now-for-trade-parking-permits
.
The public can continue to park in areas not designated as Work Zones, with normal parking rules in place, such as timed parking.
Members of the public wanting to park in the CBD can rest assure that there is plenty of availability and should refer to the Lismore CBD parking map.
Trades are strongly encouraged to utilise Work Zones to reduce the impact on the general public.