New Cemeteries Office offers more for the community
Tuesday, 19 October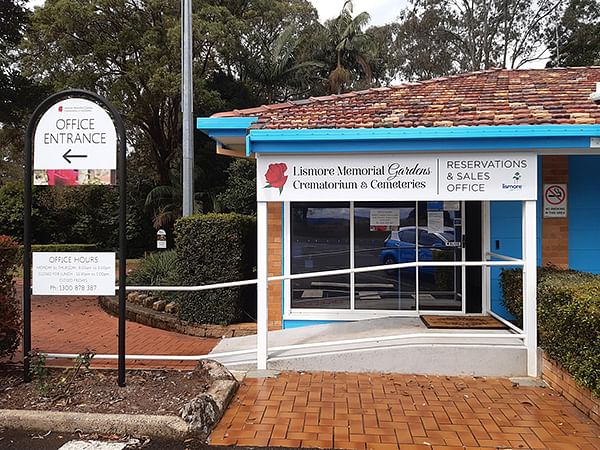 Lismore City Council has reopened the Office at the Lismore Memorial Gardens on Skyline Road in Goonellabah.
Called the Lismore Memorial Gardens, Crematorium and Cemeteries Office it provides a respectful space to discuss burials at the Lismore Memorial Gardens and rural cemeteries, cremations, memorial services and memorisation and plaques.
Commercial Services Business Manager, Kevin Trustum, said that over the past few years it was identified that a dedicated space was required for customers, their families and loved ones to discuss burial and service options, organise a cremation, reserve burial plots and arrange memorialisation.
The new office showcases the range of memorial and plaque options and offers a new range of memorial and commemorative products.
Mr Trustum said families can now purchase cremated remains urns, keepsake urns and cremation jewellery at the office, with a range of the products on display. These urns do allow the family to retain a portion of the cremated remains, while still having a formal memorial gardens interment site.
Council is currently constructing a special plaque-only memorial area, called the Brushbox Memorial Garden, to allow a memorial site where ashes may have been retained or scattered elsewhere. It is also bringing online a new outdoor post-service wake area to allow families and friends to celebrate the lives of their loved ones in the beautiful setting of the Memorial Gardens.
Lismore City Council's cemeteries and crematorium honour residents who've made Lismore and its Villages the diverse and vibrant community it is today.
Council manages six cemeteries and a crematorium catering for burials, cremations and memorials for cremated remains. Lismore Memorial Gardens is the largest cemetery offering a range of burial and memorialisation options and is the location of the Lismore Crematorium. Council provides a number of other cemeteries in urban, rural and village settings that give residents the option to be buried and memorialised closer to their homes.
The new office is open for Monday to Thursday 9am to 3pm. Bookings are recommended and can be made by calling the office on 6625 0500. Bookings can be made by phone on Fridays.