New road signs: Crikey! Slow down, koalas are about
Monday, 14 December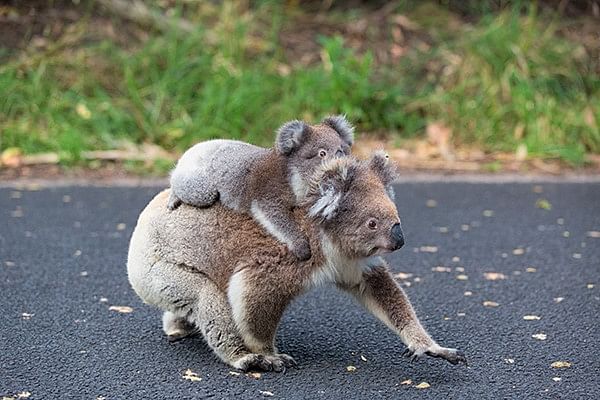 Lismore City Council will install temporary signage to reduce the number of koalas being hit by vehicles at three identified koala-strike hot spots around Lismore.
"In just the first nine months of this year, 22 koalas were killed on local roads - this is 22 too many," said Council's Environmental Strategies Officer Angie Brace.
"We want to alert motorists to slow down in koala crossing areas to reduce the risk of hitting koalas and other wildlife as they move between habitats."
The temporary signs, funded by the State Government, will be installed at three major hotspots: Ballina Road Goonellabah, Dunoon Road at Modanville and Wyrallah Road at Tuckurimba.
Ms Brace said koalas and other wildlife are out an about at this time of year as they search for food and mates in increasingly isolate pockets of habitat.
"Koalas are vulnerable to extinction in NSW and these roads cut right through some of their prime habitat," she said.
"Our roads were built through their homes, the place they live and raise their young, and they need to traverse this habitat for breeding and feeding. It is up to us as drivers to be vigilant about their presence."
The signs will be erected from 14 December with the warning: 'CRIKEY! KOALAS slow down koala hotspot' and will be changed the following month to read: 'Koalas on road anytime Next 1 KM'.
"We really want motorists to do their bit to save our vulnerable animals. Motorists can also be alert for koalas or other wildlife by scanning the side of the road during the day and watch for 'eyeshine' which is the reflection from animals' eyes at night," Ms Brace said.
Please report injured or deceased koalas that you see on the side of roads. Even dead koalas can provide valuable information to researchers and carers about where koalas are being hit.
To report sick, injured koalas or dead koalas on the Friends of the Koala 24-hour hotline on 6622 1233.