Nimbin Gnar-Walls ripping in the hinterland
Wednesday, 22 February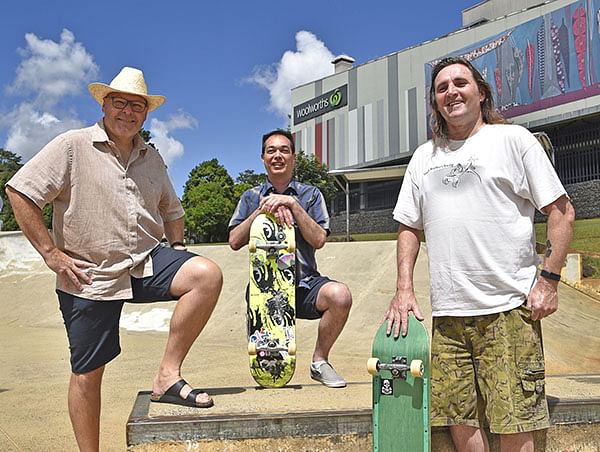 NIMBIN GNAR-WALLS is launching the first week of March with 4 days of skating, music and gnar factor 100!
Lismore City Mayor Steve Krieg was today joined by Chad Ford to launch NIMBIN GNAR-WALLS – four days of music, art and skating in Nimbin and Goonellabah.
The event includes an Under 18s Flea Circus at Goonellabah on Friday, 3 March which promises to be full of fun and challenges, along with shows and music. The next day, the event moves to Nimbin for the main GNAR-WALLS rally at the Nimbin Skatepark. Don't expect the ordinary and only come for fun.
Lismore City Council and the NSW Government are supporting the local skate community and bringing back friends and family for a final summer celebration of skating. Local businesses and local legends are all getting on board to ensure the famous hinterland hospitality is turned up to 11.
Mayor Steve Krieg said it promised to be a great event.
"I am looking forward to NIMBIN GNAR-WALLS coming to Lismore and Nimbin. After a very tough 2022, events like this are important to bring our community together and have a bit of fun," he said.
"It is one of a series of events that Council is holding as part of 'Lismore Opening Our Heart' and I am looking forward to catching up with the community at NIMBIN GNAR-WALLS and all of our planned events. Let's put 2022 well and truly behind us."
Founder and Event Director Chad Ford he was excited about staging the four-day event.
"When you're given the support to do something a bit different that gives back to the community in ways not often possible, then you should grab hold of that opportunity and invite everyone along to celebrate it to the fullest," he said.
"The whole week of NIMBIN GNAR-WALLS is about fast-paced good times. It will be another epic chapter in the legend of Nimbin.
"All the things that make skaters lifers will be in full effect for the week. Good times, rad concrete, crazy challenges, road tripping, camping, live bands rocking it out on the platform, huge gatherings of epic skaters, art, parties, generations deep with gnarly skating and bags of cash rewards for everyone that turns up the stoke levels."
NIMBIN GNAR-WALLS is getting everyone together for a ripping week in The Hinterland. Pack your bags and get there.
Chad said it was important to acknowledge the influential skaters and scene that came before us; Patti McGee, Tony Alva, Lora Thornhill, Jay Adams, Adrian Jones, Grant "Biff" Murdoch, Dog Town, Steve Alba, Suicidal Tendencies, Black Flag, Pearl Jam, The Red Hot Chilli Peppers, The Hellmen, Glen E. Friedman, Thrasher, Independent, The Bones Brigade, The Beastie Boys, Lance Mountain, Chris Miller, Cara Beth Burnside and Tony Hawk. The new guard of Poppy Olsen, Keegan Palmer, Taniah Meyers, Grant Taylor, Lizzie Armanto, Danny Leon, Nicole Hause, Rune Glifberg, Omar Hassan, Bucky Lasek, Jack Fardell and Pedro Barros, would not be here without this heritage. NIMBIN GNAR-WALLS™ acknowledges and celebrates this with plans to build on the past and write a bright and energetic future.
EVENT INFORMATION
Event Name:
NIMBIN GNAR-WALLS
Event info:
Thursday, 2 March: WELCOME PARTY & ART SHOW @ TWO MATES BREWING
A welcome event for competitors and attendees of the Bowlzilla skate events.
Friday, 3 March: FLEA CIRCUS KIDS SESSION GOONELLABAH (UNDER 18 EVENT) @ GOONELLABAH SKATEPARK (3pm – 7pm)
A youth-focused skate event featuring well-known skaters from the Bowlzilla skate event.
Saturday, 4 March: NIMBIN GNAR-WALLS: OPEN, WOMEN AND MASTERS @ NIMBIN SKATEPARK (9am – 9pm)
The Nimbin Gnar-Walls skate event will feature music, international skaters, competitions and art. Don't expect the ordinary. A day of fun and entertainment.
Saturday, 4 March: IT'S THE VIBE AFTER PARTY
Sunday, 5 March: DREAMING BARBECUE, NIMBIN (5pm – 9pm)
A BBQ and presentation ceremony for the Nimbin Gnar-Walls Skate Event.