Nimbin Pool opens thanks to community volunteers
Thursday, 26 November
Thanks to the extraordinary efforts of local volunteers, the free Nimbin Pool will open to the community from Monday, 30 November.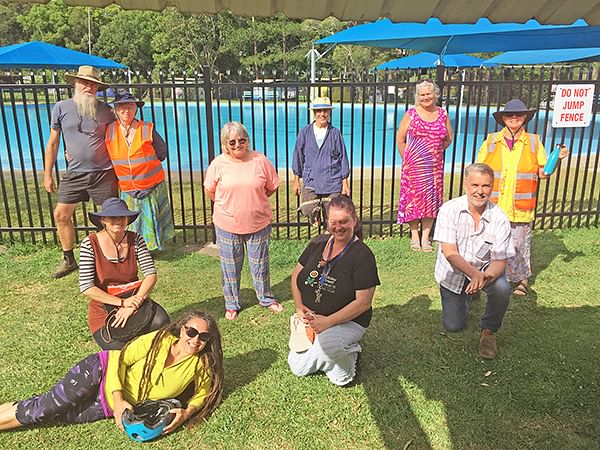 Lismore City Council has worked with the Nimbin Neighbourhood and Information Centre and Friends of the Nimbin Pool to train a team of COVID-19 safety volunteers who will staff the facility during opening hours.
The Nimbin Pool will be open from 7.30am to 6pm seven days per week. Hours and days of operation may change depending on volunteer availability, but the community will be notified of any changes well in advance.
Council's COVID-19 safety volunteers will be on site to collect up-to-date contact tracing records and monitor COVID-19 hygiene, ensuring compliance with the NSW Government's COVID-19 Public Health Orders.
"We are really pleased to see the pool finally opening – this has been an extraordinary community effort and we would sincerely like to thank all the volunteers who are giving their time to open this much-loved community facility," Council's Assets Manager Scott Turner said.
"The Nimbin Neighbourhood and Information Centre and Friends of the Nimbin Pool have been determined to ensure this facility can open for the benefit of the community – it would simply not have been possible without their efforts and the generosity of volunteers. It is a great example of a community that is active and looks after one another in times of need."
Scott urged pool visitors to respect the role of the COVID-19 safety volunteers and follow their directions.
"Our volunteers will be monitoring COVID-19 safety in line with our approved COVID-19 Safety Plan and we urge all visitors to please follow their instructions and respect that they have an important job to do," Scott said.
"As we have seen recently in Victoria and South Australia, the threat of COVID-19 is far from over and it is vital that we all remain vigilant and play our part in keeping our communities safe."
More volunteers are needed to help with the roster– anyone interested should email the Nimbin Neighbourhood and Information Centre at
admin@nnic.org.au
. Training is simple and you can give as much or as little time as you wish.
All volunteers will need a valid Working with Children Check. This can be completed free of charge at
www.kidsguardian.nsw.gov.au
.