Roads crews working hard to fix urgent flood damage
Friday, 18 December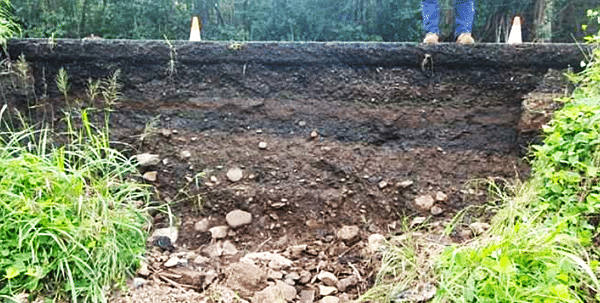 Lismore City Council road crews are working at full capacity today across the Lismore Local Government Area fixing the most urgent flood repairs.
Storms, heavy downpours and flash flooding has significantly impacted local roads, with many roads being cut and others left severely damaged.
Council is undertaking urgent repairs and implementing temporary solutions to restore access but many roads will need more significant, permanent repairs in future.
Below is the current state of play on the worst affected roads.
Culvert washout on Blue Knob Road – temporary roadworks complete and road open.

Kellas Street – significant landslip, closed until further notice.

Campbell Road at Stony Chute – bridge approach damaged but temporary fix in place for resident access.

Landslip on Salkeld Road, 300m from the Blue Knob Road intersection – road still open.

Moffit Road, eastern approach to McMillan Bridge – major gravel washout being repaired, opening expected this afternoon.

Gungas Road – rockfall cutting off access has been cleared.

Dunoon Road near Lismore Showground – road badly damaged but temporary fix in place and road open.

Shipway Road – washed out and apparently impassable, staff still trying to gain access.

Spring Street, East Lismore – major footpath issue, staff to inspect and assess shortly.

Nimbin Road – major shoulder subsidence approximately 500m south of Shipway Road intersection. Traffic lights installed today and access reduced to one lane.

Spring Grove Road – landslip remediated and opening expected this afternoon.
Lismore City Council is asking residents to please follow all traffic control in place and exercise extreme caution on the roads over the Christmas period.
Council's Director of Infrastructure Services Peter Jeuken said some of the damage is complex and significant, and Council will need time to plan permanent repairs.
"We have several landslips and culvert washouts that require geotechnical investigations, followed by new road design and construction, and this all takes time," Peter explained.
"We are doing our best to restore access for all residents as quick as possible, but permanent repairs to some of the worst affected roads will take months. Council staff are doing a great job trying to get roads back to a serviceable condition prior to the Christmas break.
"We urge everyone to be patient and careful on the roads throughout the holiday period and always drive to conditions."
Council has estimated that the damage bill from the recent weather event is likely to exceed $15 million.
The Northern Rivers was yesterday declared a natural disaster area by Prime Minister Scott Morrison and NSW Premier Gladys Berejiklian. The declaration allows councils in the region to obtain road funding for flood damage and will assist in progressing repairs.
Image
: A major landslip at Spring Grove Road.