Survey finds overwhelming support for Lismore Airport
Thursday, 18 November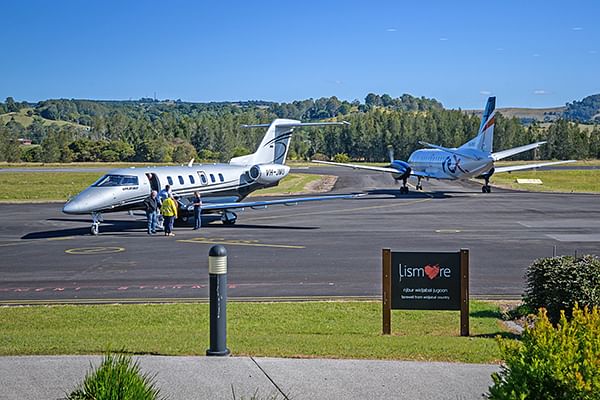 Lismore City Council's community survey found overwhelming support for Lismore Regional Airport, with respondents citing the economic benefits of the airport and employment opportunities.
The survey, conducted via the Council's Your Say Lismore community consultation website, asked residents about aircraft noise and what they wanted for the future use of the airport. One thousand responses were received.
It found the key benefits were passenger flights (94%), aeromedical (97%), aviation training (89%), freight (90%) and employment (92%).
While 85.2% of respondents said noise levels were no higher than five years ago.
A breakdown of how often respondents are affected by aircraft noise, found 8.4% were impacted every day, 14.5% a few days a week, 10.8% at least once a week, 11.2% once a month and 55.1% not at all.
Of those affected by aircraft noise most were affected between 7am and 7pm any day of the week.
Asked about pilot training at the airport, a majority of respondents saw value in its economic benefits (91%), employment opportunities (92%), provision of high-quality training (87%) and safety of aircraft operations 91%).
Just over 83% of respondents said they wanted to see more pilot training offered at the airport in the future, while 1.2% indicated there should be none and 6.4% wanted training levels reduced.
Almost 16% of respondents said it was very important to reduce noise associated with training and 21% indicated it was very important to reduce airspace congestion.

The airport currently generates more than $26 million annually for the local economy and directly creates 57 jobs, in addition to 26 indirect jobs. Pre-COVID, the airport catered for 12,000 flying passengers annually.
In additional to commercial passenger flights, the Lismore Regional Airport provides local air freight, aeromedical services for Westpac Rescue Helicopter, Angel Flight, Little Wings, Air Ambulance, Royal Flying Doctors, special doner transport services, emergency services such as fire fighting, charter flights and supports Car hire companies that are based there.
Constructed in 1968, the airports history goes back even further to 1920 when the country's first Airmail service was launched between Lismore and Tenterfield, and on 11 June 1933, Sir Charlies Kingsford-Smith made history when he landed his plane, The Southern Cross, at the airport.
The data gathered from the survey will assist in ongoing community engagement as part of master planning to meet future needs and upgrading infrastructure at Lismore Regional Airport.