The Channon Market brings the hills to Lismore's CBD
Thursday, 09 June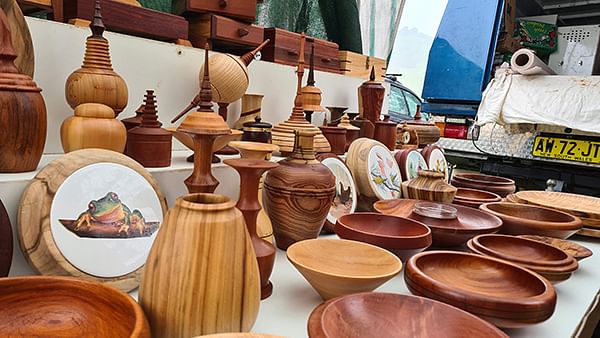 One of Australia's oldest art and craft markets, The Channon Craft Market, will venture out of the hills and into
Our Place: Lismore Pop-Up Precinct
on Sunday, 12 June.
With a forecast for crisp, sunny weather this weekend, Lismore City Council warmly invites the community to rug-up and come together to connect over the market's philosophy of 'make it, bake it, grow it, show it'.
Established 1976, The Channon Craft Market Inc. holds a unique identity in the Australian cultural landscape, having attracted backpackers and tourists over 40 years from across the globe to enjoy food, craft, live music, and a relaxed atmosphere.
Lismore City Council is excited to extend this quintessential 'Northern Rivers' experience to residents who may not have made the trip out to The Channon for some time, whist providing trade opportunities for our local vendors and businesses after extensive disruptions and cancellations.
The Channon Craft Market is temporarily operating in the Pop-Up Precinct in Lismore CBD, while essential flood repairs are made to its access roads and venue. It is located in the Harold Fredericks Carpark on the corner of Dawson and Magellan streets.
Last week the Lismore Car Boot Market popped up at the Precinct, attracting an estimated 2000 patrons. Lismore City Council recognises the tremendous value our market vendors bring to the region, complementing local brick-and-mortar businesses and helping to revitalise our CBD.
Lismore City Council's General Manager John Walker encouraged the community to come along and wander through the CBD to discover other CBD businesses that have recently re-opened.
"Thanks to everyone who came together in the sunshine for the first pop-up Car Boot Market. It was great to see our community reconnecting and trading in the heart of the CBD," he said.
The Channon Market Manager Robyn Kelly said: "The Channon Craft Market is so excited to be part of this project to support local cottage industries and business, and to give our community another beautiful and memorable experience."
This initiative is a collaboration between Lismore City Council, Lismore Chamber of Commerce and Industry, The Channon Craft Market Inc. and the Lismore Car Boot Market, for community and economic benefits during flood recovery. The Precinct is funded by Resilience NSW.
The Precinct will host the Lismore Car Boot Market on the first and third Sunday of every month, and The Channon Craft Market on the second Sunday of every month.
Accessible parking and toilet facilities are available.