Upcoming road closure for Cawongla Road
Wednesday, 14 September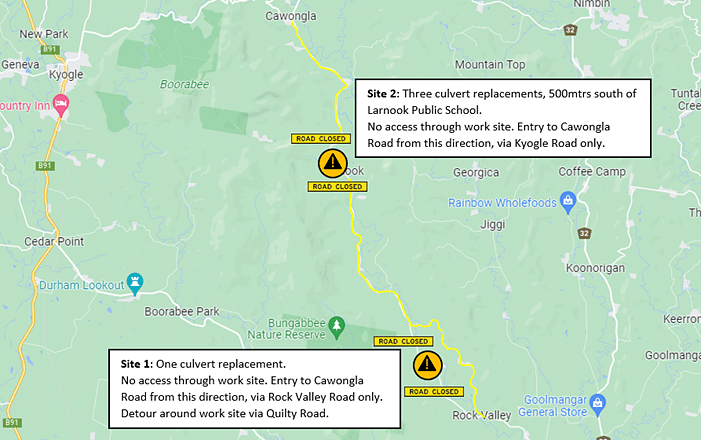 Following the February and March 2022 natural disaster, four culverts on Cawongla Road suffered significant damage and require replacement.
Works will occur at the same time at the two sites starting in November:
Adjacent to 169 Cawongla Road, Cawongla approximately 1.25km south of the Quilty Road and Cawongla Road Intersection
500m south of Larnook Public School, adjacent to 1224 Cawongla Road, Larnook
The extensive repair work at both sites includes the following:
The clearing of vegetation and trees adjacent to the embankment failure
Excavation and removal of the existing road surface and embankment material
Reconstruction of each of the arch culverts
Road embankment reconstruction at each culvert location
Road pavement reconstruction
For the safety of motorists and due to the nature of works, a full hard road closure is required for both work sites.
The closures are expected to be in place for approximately 6 weeks starting in November, subject to weather, material and contractor availability.
After the initial works are completed under full hard closure, the road will open to single lane traffic while final stages of the works are completed.
Arrangements have been made with Larnook Public School for students, families, and staff of the school.
For further updates and to find out information on other major roadworks go to the Maintaining Our Roads and Bridges Your Say article:
https://yoursay.lismore.nsw.gov.au/maintaining-our-roads-and-bridges