$500,000 Emergency Pothole Repair program announced
Thursday, 24 February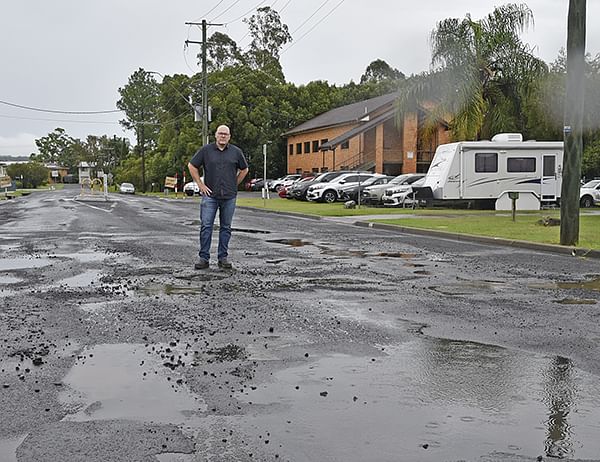 Lismore City Mayor Steve Krieg today announced an extra $500,000 of funding for emergency pothole repairs on some of our worst roads.
"My team and I were elected on a platform of fixing our road network, and that's what we are doing," Mayor Krieg said.
"When Council's new General Manager John Walker was appointed, I told him his first job was to find money in the existing budget to start the huge job of repairing our roads.
"Today both the Council and John have delivered with a pothole repair program that will put a dent in the list of our most urgent roads in need of repair.
"This is about listening to our community and prioritising how Council spends ratepayers' money."
"We are also lobbying the State Government for a large one-off grant to start tackling the $97 million road maintenance backlog that we have inherited. I would like to thank our State Member for Lismore, Janelle Saffin, for her assistance with this.
"I have already met with the NSW
Minister for Regional Transport and Roads Sam Farraway, and although no promises have been made, I am always hopeful.
"We have a long way to go, but by working together this Council can achieve a lot."
Pothole repairs will be carried out on the following roads over the next two months.
Road Name
Location
Rous Road
East, newly constructed intersection of Tregeagle Rd
Lindendale Road
To the boundary
Cowlong Road
Northern end
Pearce Road
One section 800m
Boatharbour Road
Scattered the full length
Rhodes Street
Near School
Tregeagle Road
Grennan Road
Upper Tuntable Falls Road
Tuntable Falls
River Bank Road
Full Length
Blue Knob Road
Full Length
Tuntable Falls Road
Full Length
State Roads
General
Tuntable Creek Road
Full Length
Tuckurimba Road
Full Length
Jiggi Road
Full Length
Rosehill Rd
Full length
Nimbin Road
Bishops Creek to Village
Stony Chute Road
Full Length
CRM/Water Cuts/Private Works
Various
CBD
General
Outer CBD
General
Urban Roads
Various