Positions Vacant
Please refer to the individual job advertisement closing date and time to ensure you submit before this time. All closing times are in NSW time.
If you face particular difficulties in completing a job application or require adjustments throughout the recruitment process please contact People and Culture via email
people@lismore.nsw.gov.au
Working with us
We live in a beautiful region and we are rebuilding our organisation to be stronger than ever and more efficient than ever. We aim to be leaders in our fields and ultimately improve services for our community. To do this, we need great people from all walks of life, who see our vision and are passionate about contributing to it.
What are we looking for?
We are looking for people with a great attitude, who have 'heart' and are invested in being a part of the Lismore City Council team. We are looking for people who want a challenge and have a desire to contribute to the success of our community. We want people looking for a career change and people who are seeking a job where income is regular, as are the hours!
Our Values
As an organisation we have adopted a set of values – developed by the people, for the people. These were created as part of a consultative 'Values Project' involving staff across the whole organisation.
Our 'Values' are to respect, to strive, to be passionate and to communicate. We expect anyone who applies for a job with us to be aligned with these values. Our catchphrase is 'Values begin with a V but start with you…' and we want our organisation to be full of talented workers who believe in the values we do.
We ask you to address our values as part of your selection criteria. You can find more information in the Info Pack.
Lismore Employment Acceleration Pathways (LEAP) Program – Apprenticeships, Traineeships, School Based Traineeships, Cadetships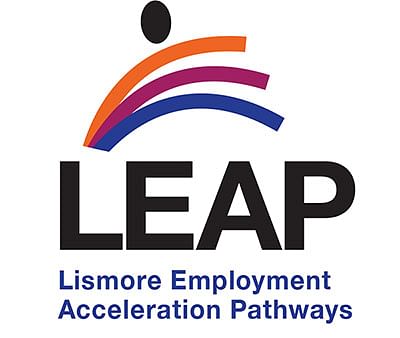 We take great pride that we focus on employing our workforce from our local communities and beyond. We believe that the best way we can assist to improve the lives of our people is by offering greater opportunities for young people, new entrants and anyone seeking a career change. We hope to create new opportunities for you to work, live and play in the region while being able to reach your potential.
Our LEAP program offers a range of apprenticeships, traineeships (including school based) and cadetships across Council which are a great way to
LEAP
into a career at Council, with combined formal learning and on the job experience.
Sound like you? Our 2023 LEAP Program intake is now closed, however there may be times throughout year we may advertise further opportunities in positions vacant above, please register to our job alerts to stay up to date with any opportunities that open. Our 2024 intake is planned to open at the end of October.
Frequently Asked Questions (FAQs)
Can I save my application and come back to it later?
No, your application will need to be completed in one sitting. You are unable to save and come back to it later. We recommend that you copy the questions on a Word document and take your time to answer. When you are happy with your application answers copy and paste the answers online.
How do I keep up to date with new opportunities?
Subscribe to our job alerts - Be the first to know about all our opportunities.
Can I send my resume in?
No, unfortunately we cannot accept unsolicited resumes or applications due to our recruitment merit practices.
\We encourage you to regularly review our positions vacant and follow the application advice for the position being advertised and/or sign up for our Job Alerts.

What do if I don't have access to a computer or internet?
Our public libraries provide public access computers with word processing and internet. Please phone your local library to book a computer to avoid disappointment.
Privacy Statement
The personal information that Council has collected from you is personal information for the purposes of the Privacy and Personal Information Protection Act 1998 (PIPPA).
The intended recipients of the personal information are officers within the Council and any other agent of Council.
The supply of the information by you is voluntary. Council has collected this personal information from you in order to assist it in its determination of a vacant position within the organisation. You may make an application for access or amendment to information held by Council. You may also make a request that Council suppress your personal information from a public register. Council will consider any such application in accordance with the PPIPA.
For information concerning this, email us at
council@lismore.nsw.gov.au
or phone us on (02) 6625 0500.