Strategic plans guiding the future of our community
In June 2017, Council adopted a new set of strategic plans to guide its strategic direction and long-term and short-term planning. All NSW councils develop these strategic documents using a model called the Integrated Planning & Reporting Framework.
The diagram below shows how the plans connect: long-term objectives identified by the community are translated in to strategies, activities and actions that the Council will undertake. These plans are updated each time a new Council is elected.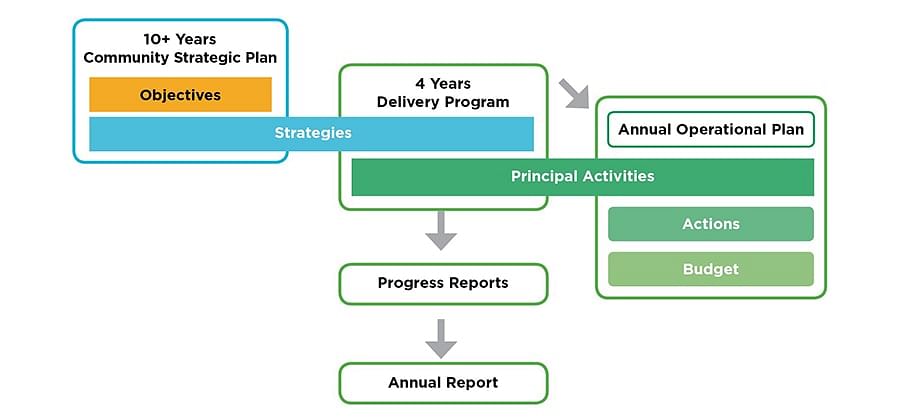 COMMUNITY STRATEGIC PLAN
The Imagine Lismore Community Strategic Plan 2017-2027 details the community's 10-year aspirations for Lismore and sets the scene for what the community wishes for its future.
Imagine Lismore Community Strategic Plan 2017-2027
DELIVERY PROGRAM & OPERATIONAL PLAN
The four-year Delivery Program is Council's strategic plan for achieving the community's vision while the Operational Plan is a sub-set of the Delivery Program that includes specific activities that will be undertaken during the 2019/20 financial year as well as the accompanying budget.
Imagine Lismore Revised Delivery Program 2017-2021 and Operational Plan 2021-22

Appendices:
2021-2022 Revenue Policy & Borrowings
2021-2022 Fees & Charges
PROGRESS REPORTS
Council produces regular Progress Reports to update the community on progress in achieving the strategies outlined in the Delivery Program.
Progress Report January to March 2021

Progress Report October to December 2020

Progress Report July to September 2020

Progress Report April to June 2020

Progress Report January to March 2020

Progress Report October to December 2019

Progress Report July to September 2019

Progress Report June 2019

Progress Report June 2018

Progress Report March 2018