Urban Green Corridors Plan helps restore native bushland and wildlife habitat
The Urban Green Corridors Plan is a major project within Lismore City Council's Biodiversity Management Strategy that provides a strategic and coordinated approach to the conservation and restoration of biodiversity in bushland reserves throughout urban Lismore.
The Urban Green Corridors Plan is focused on protecting and restoring biodiversity values through ecological restoration that enhances existing bushland and improves connectivity of habitat.
Lismore city is rich in natural assets made up of a range of vegetation and habitat types including rainforest remnants at Rotary Park and Currie Park; a variety of rivers, creeks and wetlands; and valuable koala habitat which supports a resident population of koalas. A range of plants and animals listed as threatened with extinction under state and federal legislation have been recorded including 24 plant species and 20 animal species. Six different endangered ecological communities have been identified covering over 150 hectares.
The Urban Green Corridors Plan identifies a network of wildlife corridors which link bushland reserves and important habitat within the Lismore city area. The wildlife corridors include riparian vegetation such as along the Wilsons River and Tucki Tucki Creek, as well as remnant rainforest reserves and koala habitat. Bushland reserves within the corridors will be the focus of urban conservation programs aimed at improving the condition of bushland and improving the connections between these areas to enhance the viability for local wildlife populations.

The map below shows the location of the Urban Green Corridors: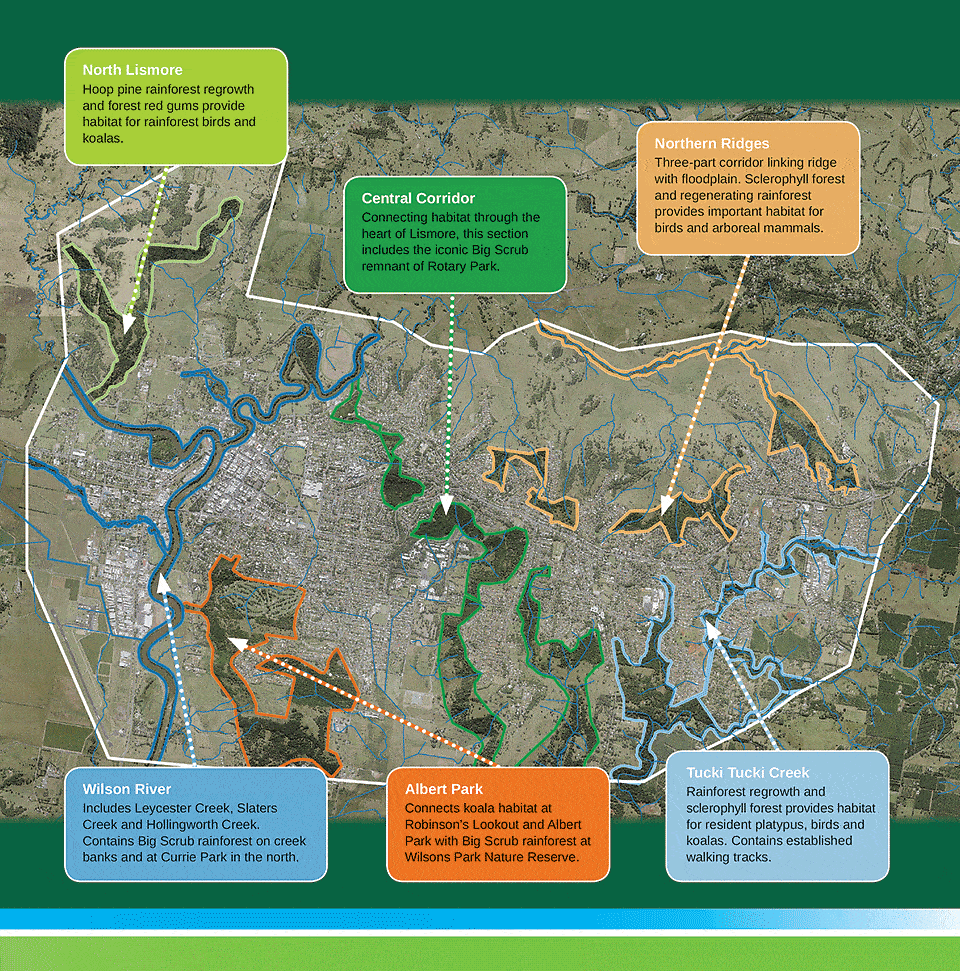 Management Strategies
Council will be working to restore bushland reserves within the Urban Green Corridors Plan area through the following management strategies.
Bush regeneration to control weeds and restore native vegetation communities. Council aims to increase the area under management by 20% by 2021 to over 80 hectares.
Revegetation to increase the area of native vegetation, improve connectivity between areas of existing vegetation and revegetate the banks of creeks and rivers. Council aims to revegetate five hectares of land within the Urban Green Corridors Plan area by 2021.
Community partnerships working with Landcare groups, community groups, schools and other agencies to restore native vegetation.
Education programs to raise community awareness of the values of urban bushland and how the community can contribute to improving these areas.
How can you help?
If you don't compost or mulch your garden waste, put it in your green bin to stop the spread of weeds.
Plant bush-friendly native plants in your garden – check out our publication My Local Native Garden Guide.
Keep your pets inside at night to protect native wildlife.
Walk your dog on a lead and pick up after them when in bushland and parks
Join a Landcare group and help restore your local area.

Documentation:

Urban Green Corridor Plan 2017
Urban Green Corridors DL Brochure