Water saving tips and water education activities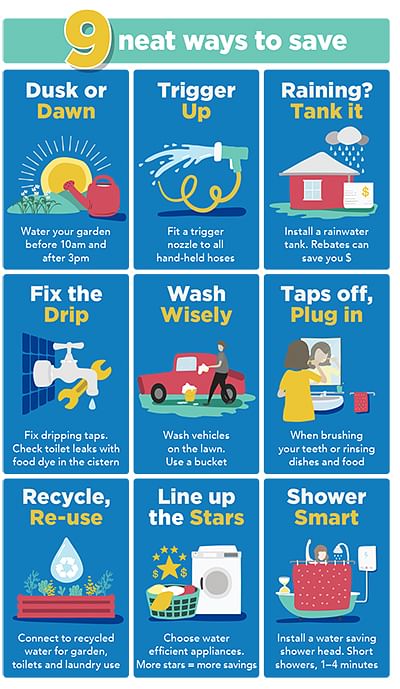 Water restrictions
Rous County Council sets the water restrictions for the Lismore water supply while Lismore City Council is in charge of setting water restrictions for the Nimbin Water Supply as this does not come from the Rous catchment area.
For more information, visit Rous County Council.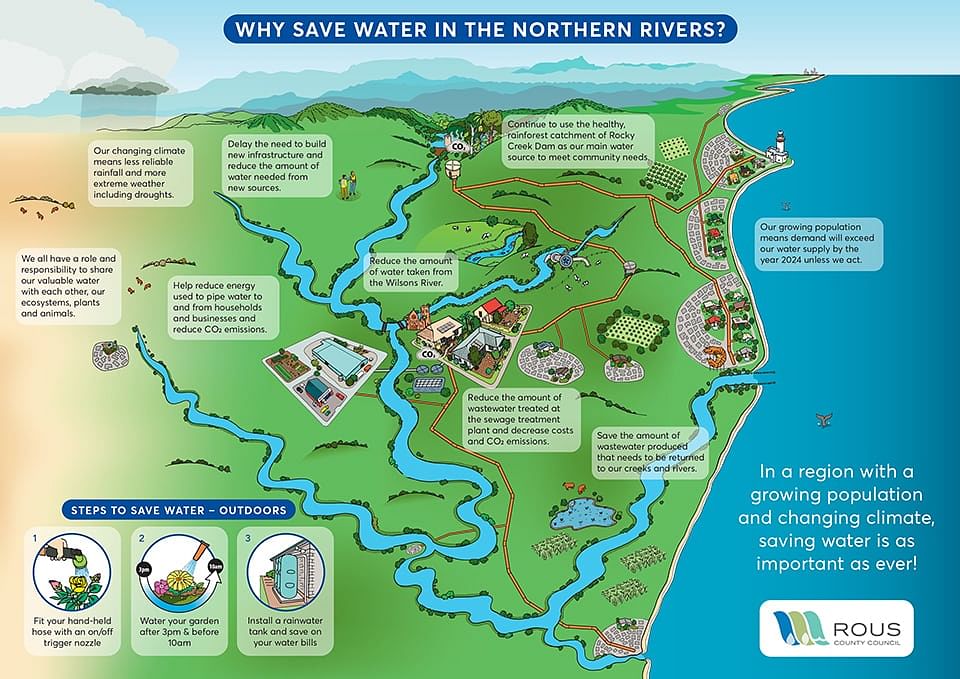 Save water and help protect our future water supply
Did you know that our growing population means demand will exceed our water supply by the year 2024 unless we act? Changing climate also means less reliable rainfall and more extreme weather, including droughts.
Rous County Council and Lismore City Council encourage people to learn our water saving tips in the seemingly green Northern Rivers.
You can save on costs and help ensure there is water fo all now and into the future.
Three top tips to start saving water:
Trigger up – Fit your hand-held hose with an on/off trigger nozzle.
Dusk or dawn – Water your garden after 3pm or before 10am.
Tank it – Install a rainwater tank and save on your water bills.
Rous County Council also offers rebates of up to $2170 to install a rainwater tank.
You can download the Why Save Water in the Northern Rivers? diagram to learn more, or for more information on water saving and tank rebates, contact Rous County Council on 02 6623 3800 or www.rous.nsw.gov.au.
Water education activities for primary and secondary schools
Students of all ages benefit from learning about ways in which we can all help improve the health of our drinking water catchment.
Teaching children the value of water as a precious resource helps get the message into more households and sets up good habits for life.
Ring (02) 6625 0500 to ask for support with water education.
3D Catchment Model
The 3D Richmond and Brunswick Catchment Model is available free for community groups, schools and educational events.
The Catchment Model is great for kids, with interactive elements that allow children and adults to see how rain carries stormwater around our towns and into our water catchments. Children get to participate and add the 'rain' themselves, making the learning process fun and interesting.
The Richmond and Brunswick Catchment Model is aimed at demonstrating:
What is a catchment?
What are local catchment management issues?
How do our daily practices have an effect on the land, water and native plants and animals?
What choices can we make, or actions can we take, for a healthy catchment?
The Catchment Model can be brought to your school or community event and operated by a trained Council Education Officer. A teacher must supervise school groups.
For more information see the brochure below or for bookings, phone (02) 6625 0500.